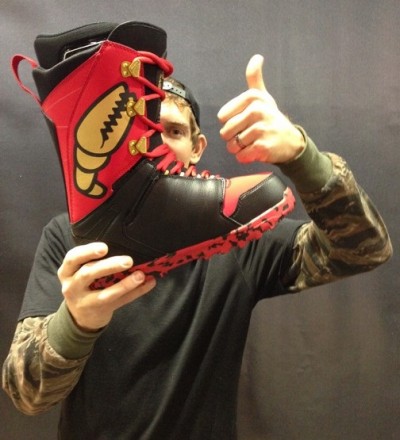 More often than not snowboard brand collabs are one-and-done, but that's not the case with rider-owned ThirtyTwo and Crab Grab.  Theses two brands are sticking together to create a new Crab Grab edition of ThirtyTwo's iconic, best-selling Lashed boot for 2014.
"This is a dream come true, all over again. If you liked this year's boots, then you'll love the new ones. And if you already loved this year's boots, you'll want to make love to the new one. They're luxurious," said Preston Strout, Crab Grab Creator.
Crab Grab is a small brand that recalls the days when a man was measured by his method, not the number of flips he can do off one jump.  The brand exists to make simple, functional traction products in hopes to inspire snowboarders to create – while never abandoning style.
For the latest on ThirtyTwo and Crab Grab, connect with the brands here:
Twitter/Instagram: @ThirtyTwo and @CrabGrab
The Web: ThirtyTwo.com and CrabGrab.com
Facebook: facebook.com/ThirtyTwo
Image courtesy ThirtyTwo