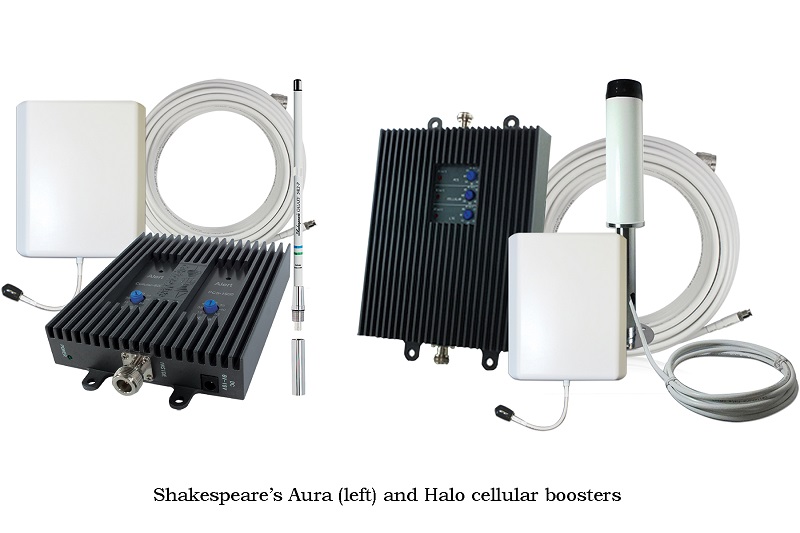 Enjoying life on the water or the road doesn't have to mean a loss of connectivity. The new dual band Aura and Halo cellular booster kits from Shakespeare improve AT&T, T-Mobile and Verizon cell phone and internet reception on a boat or RV, or in any location where phone signals are weak.
The unique compartmentalized design of these cellular boosters increases call clarity for multiple users in areas up to 6,000 sq. ft. Units feature a tough metal casing that ensures durability and weather resistance. Installation is simple, requiring no special tools or tech skills.
Shakespeare's booster kits not only enhance cell phone reception, they also improve a phone's battery life. The energy efficient Aura booster consumes less than 20W, and the Halo, less than 30W. Their tough metal casings provide durability and weather resistance.
Compatible with virtually all US 2G and 3G networks, the Aura CA-VAT kit betters reception for up to five users simultaneously. Its indoor directional panel antenna and adjustable dials maximize signal strength throughout a vessel or other space.
Accommodating up to eight users, the Halo model works with virtually all US 2G and 3G networks. It also boosts 4G networks via a carrier-specific configuration (AT&T, T-Mobile or Verizon). This full-featured kit poses the ideal solution for large vessels or spaces with poor signal, or those that require large
coverage. Halo's completely integrated CA-V, CA-T and CA-A amplifier kits combine PCS and cellular dual-bands with 4G frequency, resulting in dramatically improved 4G speed for faster uploads/downloads with no buffering. Tower proximate technology automatically recognizes when signal overload to cell towers occurs. In addition to having manually adjustable dials for each frequency, the Halo model comes with built-in automatic shutdown.
Each kit includes CA-V, A or T amplifier, outdoor and indoor antenna, coax cable and a user manual. The AC power transformer for all models provides AC110V, 60Hz input and DC 12V/6V output; 12V/6V DC power is optional for the Aura. LMR240 cable is recommended for the Halo and Aura booster kits, which provides added flexibility and reduced circumference to ease installation. Shakespeare offers a two-year warranty on all its models.
The Aura booster retails for $612.86. The Halo retails for $1,430.
Image courtesy Shakespeare