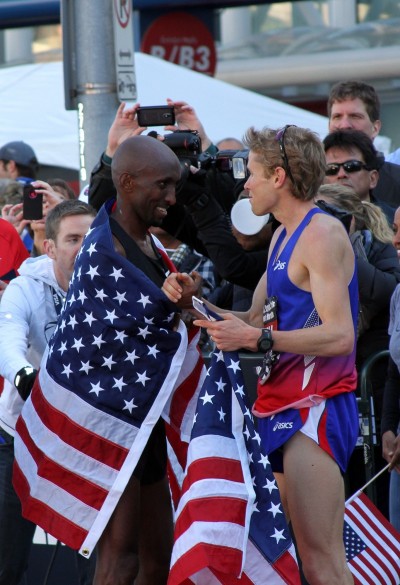 The Winter Olympics are right around the corner, but summer athletes are already preparing for 2016. Yesterday, USA Track & Field officially announced that Los Angeles will host the 2016 US Olympic Marathon Trails. The event will be held the day before Valentine's Day, with separate starts for both the men's and women's races. The trail date was chosen to give runners proper recovery time for other US Olympic track trails which will be held in Eugene, Oregon at the beginning of July.
Los Angeles outbid both Cincinnati and Houston, the site of 2012's Olympic trails. Though this year's race will follow the model that Houston put in place, USATF ultimately decided on LA in hope of promoting the sport to a wider audience. Unlike past trials, for example, NBC will provide full live coverage of the event.
"We wanted to put together an Olympic trials experience that would include events that engage the community, so we got a commitment from the group in LA to work with us to develop and host those type of events that will make this a fantastic experience," Max Siegel, CEO of USATF, told the Los Angeles Times.
In order to create a weekend-long running celebration, LA has also decided to move up the date of the LA marathon, which is normally held during the first or second weekend in March, to the day after the trails. The goal is to create positive hype for the city, which hopes to be chosen to host the 2024 Olympic summer games. Other events, like LA's first Special Olympics sponsorship in 2015, also seek to keep the city in the minds of the selection committee members.
"I think this is going to be the biggest running weekend in 30 years, since the birth of the women's marathon at the '84 Olympics," said Tracey Russell, chief executive officer of LA Marathon.
The selection has created great excitement among athletes who are planning to participate. Competitor Ryan Hall, who finished fourth in 2012, told Twitter followers he was "excited to run in his own backyard," while 2012 women's trail champion, Shalane Flanagan, expressed her approval by saying,"They listened to the athletes' concerns and they nailed it!"
Though the course hasn't been finalized, the race organizers plan to create a multi-loop course similar to the one that Olympic competitors will experience in Rio de Janeiro.
Image courtesy wikimedia commons user Slick-o-Bot