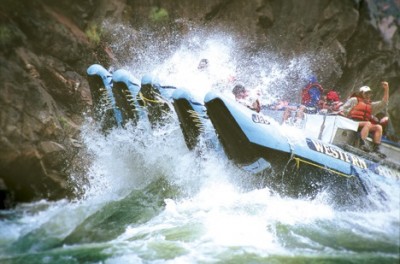 After a half century of  navigating the West's wildest rivers, whitewater rafting pioneer Western River Expeditionsinvites past guests and future rafters to participate in a "Share the Love" photo contest with the grand prize being a $3,000 trip credit on, among others, Grand Canyon rafting departures. http://www.westernriver.com/photo-contest/.
The entry achieving the highest quantity of social media shares by midnight on Feb. 13, 2014, will receive a Valentine's present of a $3,000 credit towards a Grand Canyon 3, 4, 6 or 7 Day Trip (valued from $1,265 to $2,925); Cataract Canyon 4 Day Trip (valued from $1,365/person) or Desolation Canyon 5 Day Trip (valued from $1,495/person). The trip credit must be used for departures in 2014 or 2015. Space is subject to availability.
Winners of the contest that began in mid January will be announced on Valentine's Day, Feb. 14, 2014.
To enter, participants are asked to post a photo or video of a past Western River expedition, explaining why they loved their rafting adventure; or people can post a photo or video describing why they want to take a trip with Western River Expeditions. See: http://www.westernriver.com/photo-contest/entryform.php.
Entrants will be notified within 48 hours with a link to a page they can share to gain votes via social media. Outside votes will also be coming from Western River's fans and followers on various social media.
Entrants are encouraged to get friends and family to view and share their entry via social media (Facebook, Twitter, Instagram, etc). The winner will be determined by the tally of social media shares of that post. Comments made directly on individual's blog posts will also be added into the tally. The top three contestants will be asked to verify social media accounts before the final tally is made.
To view current entries, see http://www.westernriver.com/blog/photo-contest-2014/.
Image courtesy Western River Expeditions