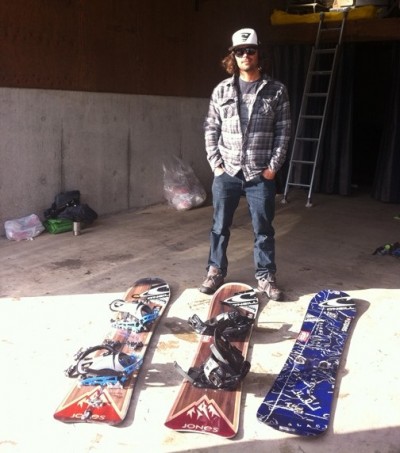 ThirtyTwo is proud to confirm that the rumors are true, and welcome the legendary Jeremy Jones to the team for 2014.  With a career spanning more than two decades Jeremy has pushed into un-chartered territory with the big mountain exploits the world knows him for today.  Lately Jeremy's been focused on elevating his mountaineering game by going into un-ridden steeps beyond the heli-zones for "Higher," which will be released this fall.
"Jeremy is someone we've respected at 32 for a long time, once we found out that he didn't have a boot sponsor, it was on! We'll be building him a full line of products focused on backcountry and split boarding in 2015. Times are changing, get ready for what's next," said Brian Cook, ThirtyTwo global brand director.
Jones has been named Snowboarder Magazine's "Big Mountain Rider of the Year" a record 10 times, received the Transworld Snowboarding "Rider's Poll" award twice, he was named the 2013 National Geographic "Adventurer of the Year" and President Obama recognized him as one of his "2013 Champions of Change."  He's been recognized a bunch, won a lot of cool awards and covers, but as a real snowboarder that's in it for all the right reasons Jeremy is most proud his foot powered expeditions into the world's most inaccessible ranges.  His "Deeper," "Further" and the upcoming "Higher" films let the world know that the best big mountain freeriding is available to anyone willing to work.
Jeremy Jones and ThirtyTwo have both taken steps to sustain the planet and look out for future snowfall.  ThirtyTwo's owner Pierre-Andre Senizergues committed to being a completely carbon-neutral company by 2020.  Jeremy Jones founded Protect our Winters (POW), a non-profit organization dedicated to reversing the global warming crisis by uniting the winter sports community.
For winter 2014/2015 Jeremy Jones' signature ThirtyTwo boot colorway will be the Focus BOA in black.  ThirtyTwo's committed to fighting climate change, so 1% of every Focus BOA's wholesale price will be contributed to POW.
Images courtesy ThirtyTwo