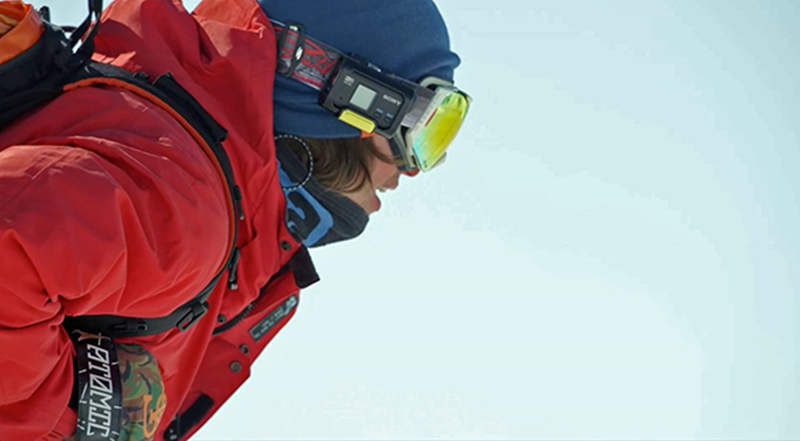 Multimedia action sports lifestyle brand Teton Gravity Research (TGR) announces endorsement deals with Sony Electronics and skiers Angel Collinson, Dash Longe, Ian McIntosh, Sage Cattabriga-Alosa and Tim Durtschi ahead of the March release of Sony's new and improved Action Cam – AS100V. The deals formalize relationships with these athletes in their second season of using Sony's lightweight, compact Action Cam – a mountable full HD camcorder – as the exclusive POV camera in TGR productions.
The new AS100V Action Cam adds full HD broadcast-quality video capture, 24p, advanced image stabilization, high-speed shooting modes, and an improved still image feature in a splash-proof white body that allows for camera use without a waterproof case in the snow and rain. These five athletes will be among the first in the world to receive Sony's new Action Cam for use in future productions.
"In selecting partnerships for Sony's Action Cam, we looked to experienced filmmakers shooting in rigorous environments with exceptional standards of quality," explains Patrick Huang, director of the camcorder business at Sony Electronics. "TGR has become a key partner for us, and these TGR athletes have embraced the Action Cam, providing valuable input that enables us to create the highest quality POV camera on the market while creating content that demonstrates its capabilities."
Collinson, Longe, McIntosh, Cattabriga-Alosa and Durtschi will release the second season of the Mind's Eye video series, a collection of TGR athlete self-edits filmed with the Action Cam, on TetonGravity.com in February. To celebrate this announcement, past Mind's Eye edits and athlete profiles are currently being featured on TetonGravity.com.
"What I like most about Action Cam is how small and sleek it is, as well as the quality of both the visual and the audio—the picture is crystal clear and you can hear what's going on better than any other action cam on the market. I don't even notice it when it's on the side of my helmet. Lastly, when you start and stop recording, it makes different noises, which eliminates the 'Is it on? Is it recording?' problem." – Angel Collinson
"My favorite way to use to the camera right now is by mounting it to my goggles and/or using the camcorder device in either a hand held form or with the Roll Bar Mount attached to my pole." – Dash Longe
"What I like most about the Action Cam is how easy it is to use. It makes capturing the action so simple. I also like how crisp the audio is, which makes watching and editing the footage so much nicer than the leading competitor." – Ian McIntosh
"For me, Sony's Action Cam is the perfect POV cam and the best on the market. Its quality is top notch; its sleek style, sharp audio, and the built-in image stabilization make it superior to any other cam. It's easy to use, and its long battery life is something that is lacking in other 1080p cameras." – Sage Cattabriga-Alosa
"The five of us had a meeting at Snowbird with the Sony product planning and design teams from Tokyo, and the product team from the US. We've been able to tell them what we think about these products to make them even better moving forward." – Tim Durtschi
Image courtesy Teton Gravity Research