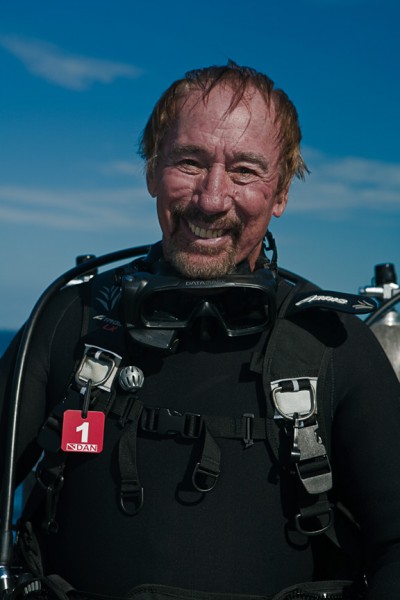 Dive legend Neal Watson, who recently joined forces with Guy Harvey as Director of Outpost Dive Operations, has been elected for a two-year term as President of the Bahamas Diving Association.
Brendal Stevens, owner of Brendal¹s Dive Center in Green Turtle Cay, Bahamas, was elected vice president.
Watson has been a pioneer in the dive resort business starting his first dive operation in Freeport, Bahamas in 1965. He has been involved in owning and operating hotels, establishing a chain of dive operations, working in the treasure salvage business, stunt coordinator for the movie and TV industry, owned and operated an airline charter company and established a chain of Neal Watson¹s Undersea Adventure franchise dive operations in the Bahamas and Caribbean.
In 1985 Watson moved to Fort Lauderdale from Bimini and established Neal Watson¹s Undersea Adventures as a Florida Corporation.  Shortly thereafter he started USA Travel Network, Inc., which is an ARC accredited tour company specializing in diving and adventure sports travel.
Recently, Watson agreed to join the Guy Harvey Outpost system¹s Expedition Outfitters program as Director of Outpost Dive Operations to recruit top dive operators in Florida, the Bahamas and Caribbean.
Watson, a past president of the Bahamas Diving Association, recently finished his third term on the Board of Directors of DEMA (Dive Equipment & Marketing Association), which is the World Trade Association for the diving industry; and is Chair of the Bahamas Dive Marketing Committee, which is responsible for recommending budget expenditures for the Bahamas Ministry Tourism for the Bahamas Government Dive Market Promotions.
Personal achievements include breaking the World¹s Scuba Depth Record, diving 437 feet on compressed air as well as breaking the World¹s Underwater Distance Record by swimming 66 miles underwater, non-stop without surfacing.
Image courtesy Guy Harvey