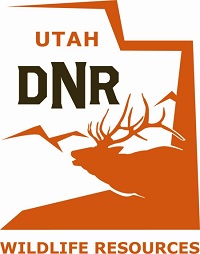 With snowmobile season just around the corner, Utah State Parks and Recreation reminds young riders and their parents that state-required youth snowmobile education courses are available online at ohv.utah.gov
Utah law requires youth eight to 16 to complete a Utah State Parks Off-Highway Vehicle (OHV) Education Course before operating a machine on public lands or trails. It is illegal for any child under age eight to operate an OHV on public land. Anyone over age 16 without a valid driver's license must also complete the course to legally operate an OHV on public land.
Course fees are $30 and upon successful completion of coursework, students can print temporary certificates and later receive permanent certificates by mail. Students should study all materials thoroughly prior to testing. If they do not pass the test, they must pay a second registration fee to retake it.
For more information, visit ohv.utah.gov, call 801-538-7433.  Ride On Utah!
Logo courtesy Utah DNR Division of Wildlife