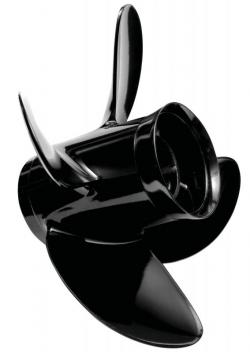 With a 16 percent gain in holeshot performance, Mercury Propellers set a new standard in aluminum propellers by expanding its Spitfire line to include a Spitfire propeller designed to fit larger engines rated at 135 horsepower and above.
With the superior handling and significant gains in holeshot performance, the expansion of the Spitfire line into larger-horsepower motors in both outboard and sterndrive applications will turn the family runabout into a tow sports machine.
"Mercury Propellers continues to raise the bar on performance, and this is proof," said Jared Reichenberger, brand manager for Mercury Propellers. "We are answering customer demand for a top-performing, high-horsepower aluminum propeller by developing a propeller that will improve holeshot by more than two seconds."
Spitfire's four-blade aluminum, reduced-diameter design and high-rake blades give boaters good acceleration without sacrificing top-end speed. Additionally, Mercury's patented Mercalloy™ aluminum alloy offers thinner blades for less drag, which allows Spitfire to unleash 16 percent more speed in 0 to 30 mph holeshot acceleration. The newest addition of the SpitFire line sets the standard for aluminum propellers in the 135-horsepower and above class and does it without the high price tag.
The Spitfire will be on display at the Ft. Lauderdale International Boat Show in October, and the Miami Boat Show in February 2014. Spitfire's expansion will be available in January 2014 in 17-, 19-, 21-, and 23-pitch. All models will be 14-in. diameter and are available in right-hand rotation only. More information on Mercury Propellers can be found at mercurymarine.com/propellers.
Image courtesy Mercury Marine