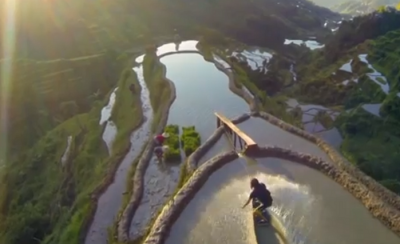 A short film released by Red Bull last week follows professional wakeskaters Brian Grubb from the United States and Dominik Preisner from Germany as they travel to the Philippines in search of a wakeskating haven.
According to an article published by the Philippine Daily Inquirer, Grubb was determined to find the location he saw pictured on the back of a P1,000 bill.
"Since I first saw the drawing of these huge rice terraces on the back of the bill, the idea of having a session there wouldn't let me go," Grubb said in the article. "It was only a drawing but it looked like a perfect winch spot and probably a super scenic location."
The location was the famous rice terraces of Banaue that are known as the Eighth Wonder of the World.
"The whole project was a real adventure for us and the team. It is still incredible that we were wakeskating at such a fascinating place," Grubb told the Inquirer.
According to the video's description, "Respect for the environment was a priority from the beginning of this project. The team has assured that the plants and wildlife have neither been damaged nor disturbed at any time during the project. All agreements have been made together with the locals and under respect of their traditions and culture."
Image is a screenshot from video by redbull on YouTube