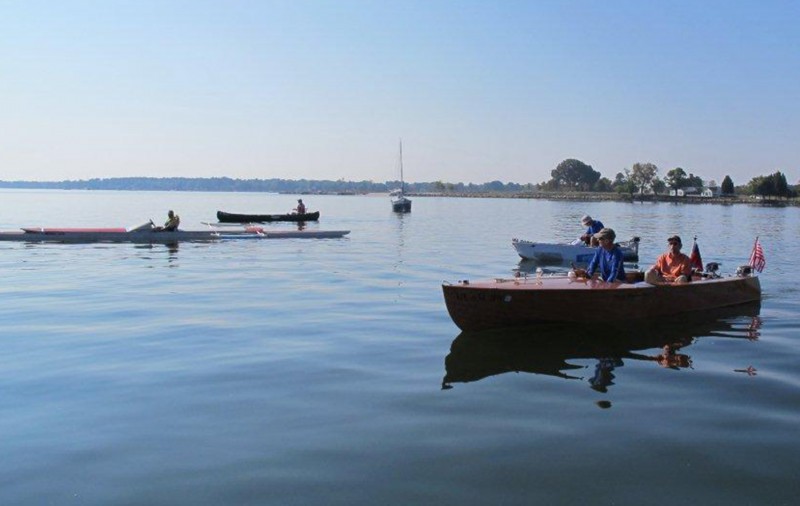 Proving its electric motors always have the leading edge and the ability to run for longer distances, Torqeedo recently won first, second and third places in the 13th annual Wye Island Electric Boat Challenge in St. Michaels, Maryland. This is the second time Torqeedo-powered boats have swept the 24-mile, electric motor-only race.
In all the years of the race, any boat with a Torqeedo motor has always finished the marathon and this year was no exception. All Torqeedo-powered vessels crossed the finish line after completing the circumnavigation of Wye Island.
This year five boats were powered by Torqeedo motors. Practically any model is suitable for the marathon, since contestants have used the Travel 801, Travel 1003, Cruise 2.0 and Cruise 4.0. All the winning boats in each category, single hull/lead acid batteries; single hull/advanced batteries; and multi hull, ran Torqeedo motors.
First place in the single hull/advanced batteries category went to Capt. Todd Sims and his 11′ Swiss Cat, while second place was taken by Ned Farinholt and his 19′ purpose-built Speedster. Third place was captured by David Borton in his 25′ Weston Farmer launch.
In the single hull/lead acid batteries category, Jim Campbell took first place and fastest time overall in his 20′ Old Town canoe and Tom
Hesselink snagged second in his exceptionally crafted Budsin "Telescope" launch.
Torqeedo's high-tech outboards combine lithium batteries with leading-edge motor technology and propeller design. They offer unrivalled strength and reliability for superior primary propulsion. Environmentally-sound and truly innovative, these electric outboards have many applications.
Image courtesy Torqeedo