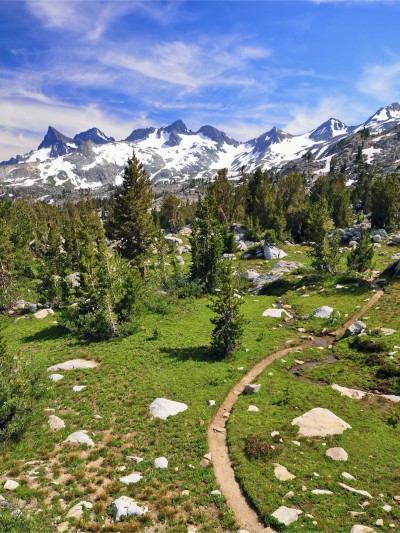 About 200 people have hiked the "Triple Crown," which is comprised of the Pacific Crest Trail, the Appalachian Trail, and the Continental Divide Trail—a total of more than 7,900 miles.
Of those 200 is Reed Gjonnes—a 13-year-old from Salem, Oregon who recently became the youngest person to hike the three trails.
The young hiker began backpacking when she was a mere four years old with her father Eric Gjonnes, who is an expert long-distance hiker. Reed and her father tackled the three longest trails in the United States in the last three years.
"Hiking has been part of my life for as long as I can remember," Reed said in an article published by USA Today. "When I was a little kid, it was because I wanted to spend time with my dad and go camping. Now I love everything about it—the beautiful scenery, the wild animals and meeting other people on the trail. It's all pretty great."
Her record was verified by the American Long Distance Hiking Association – West, which is a non-profit organization that gives awards to each hiker who finishes the Triple Crown. Although the record is unofficial because speed and age are not kept track of, it is agreed upon in the hiking community that Reed is the youngest, compared to the last record that was completed by a then 24-year-old.
"Although we don't recognize age and speed records, we're all in awe of somebody this young accomplishing such a monumental task," Whitney LaRuffa, president of the organization, said in the article. "We're very proud of her—it really is amazing."
Reed said it was never her intention to be the youngest person to complete the trails, but the title was just a "bonus" on top of the hiking.
Other than missing her friends and family while she was on the trail, Reed has also faced challenges such as a fractured arm during her AT hike and a foot infection on the Pacific Crest Trail. She's covered as much as 40 miles per day and has snowshoed the length of the state of Colorado, just to name a few of her accomplishments.
"At no point was she the little girl just coming along. She carried her own gear and portion of food. She knows how to cook and set up camp and took part in the decision-making," her father is quoted as saying. "In every sense she's my hiking partner—and a very skilled one."
Image from Steve Dunleavy on the Wikimedia Commons