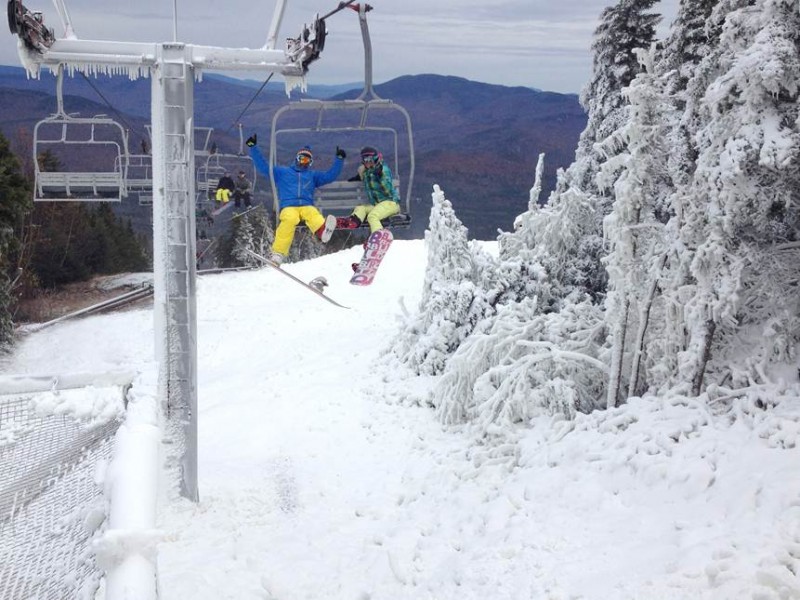 From the Rockies to the Green Mountains, skiers and riders are earning those pre-Halloween turns on a handful of trails.
Though the 2013-14 ski season started in mid-October in Colorado high atop the Continental Divide, a couple of eastern ski areas took advantage of massive snowmaking arsenals and favorable temperatures to blast open their seasons on October's final weekend.
Bragging rights for the first ski area in North America to open go to Arapahoe Basin with the Summit County resort turning on the lifts at 8:30 a.m. on October 13—a day with blue skies and temperatures in the mid-30s.
The high elevation A-Basin opened with an 18-inch base thanks to snowmaking that began in late September with plenty of cold nighttime temperatures and some natural snow too.
"People are so excited," A-Basin Marketing Director Leigh Hierholzer told the Denver Post. "We're honored to be the first in the state to get the season started."
Hierholzer said October 18 was supposed to be opening day, but cooperative weather helped snowmaking operations move the date four days earlier than last year's October 17 opening.
Colorado Ski Country USA spokeswoman Jenn Rudolph told the Post a snowy spring ended last season on a high note, and that momentum appears to be carrying over into this year.
"We're seeing a lot of optimism this year," Rudolph said. "Members have reported robust season-pass sales, and long-term booking is filling up nicely."
On October 17, they dropped the ropes at Loveland near Georgetown.
Nick Karaveris, of Boulder, had first chair there.
"I left Boulder at 5 a.m.," he told the Vail Daily. He arrived at Loveland around 7:30 a.m. and didn't get in line until closer to opening time. Shortly before opening, he was joined by a crowd of maybe 100 people using Chair 1 for a top-to-bottom run on Catwalk, Mambo, and Home Run.
On the other side of the Mississippi River, Vermont's Killington boasted its first in the east opening on October 24 with an afternoon start for its loyal season pass holders.
Skiers and riders didn't have top-to-bottom skiing at Killington, having to walk a tad to access the terrain.
Skier Roger Boutard, known as "Birdman" and toting birds embedded in his fur outfit, told New England Cable News he'd never fly south for the winter and miss out on skiing.
"Oh no, I stick around for the winter," he said. "Look at this—it's great!"
Nearly 200 skiers and snowboarders turned out for Sunday River's October 26 opening.
"It's October and we're skiing," said Resort President and General Manager Dana Bullen. "It was a lot of hard work and a very close call, but our team pulled it off and we have guests out there today thanking us. It goes to show, opening early is always worth extra effort."
Hours before the ski area opened, there was some pessimism. The western Maine resort was skeptical of being able to open after warm temperatures forced the mountain to stop making snow by noon. By 2 p.m., 20 men from the resort's mountain operations team made their way to the T2 trail to move snow by hand, shovel, and bucket, and by 5 p.m., temperatures had dropped enough to allow the resort to start making snow again.
After Sunday, Sunday River shut down to make more snow and will re-open when conditions are deemed right.
The new ski season's multi-week rollout continues as November approaches with surges coming at some bigger resorts near Thanksgiving, and the rest looking at early-to mid-December openings before the official start of winter.