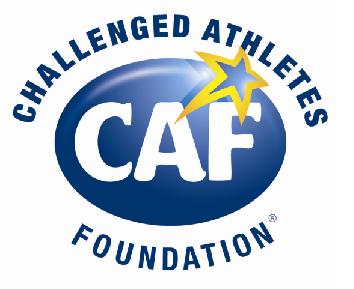 The Challenged Athletes Foundation (CAF), a world-leader in helping individuals with physical challenges get involved in sports, welcomed more than 5,000 supporters, spectators and participants to La Jolla Cove on Sunday, October 20 for its 20th AnnualAspen Medical Products San Diego Triathlon Challenge (SDTC).
The event featured close to 300 challenged athletes from around the country at a celebration of sport, ability and life that is like no other in the world. Two hundred of those challenged athletes participated side-by-side with able bodied athletes in the 1-mile swim, 44-mile bike and 10-mile run distance triathlon, which raised $1.2 million in support of CAF's unique mission. The festivities at La Jolla Cove also included the 24 Hour Fitness Tour de Cove cycling marathon where more than 175 participants cycled and raised $79,000; the Kaiser Permanente Thrive-5K Fitness Walk; and, the Philadelphia Insurance Kids' Run for challenged kids. The funds raised through these events will allow CAF to continue changing lives around the world by providing grants for adaptive sports equipment, training and competition expenses so challenged athletes can live active lifestyles and participate in sports.
"Many call the Aspen Medical Products San Diego Triathlon Challenge 'The Best Day in Triathlon,'" said Virginia Tinley, CAF's Executive Director. "It is amazing to see how much we have grown over the past two decades and how many lives we have been able to positively impact. I can't say enough to thank our supporters, sponsors and fundraisers who have made it all possible."
The Aspen Medical Products San Diego Triathlon Challenge, which started 20 years ago as a small fundraiser to help a local injured amputee triathlete who became a quadriplegic in a tragic second accident, has helped CAF raise more than $50 million and change the world's perceptions of those with physical challenges. From injured veterans to children born with physical differences, each year SDTC welcomes athletes of all ages and abilities and provides an uplifting experience – showcasing what is possible for challenged athletes. This year, CAF welcomed dozens of special guests, including five survivors of the Boston Marathon bombings who took part in the inspiring day. Celebrities, professional athletes and special guests in attendance included:
NBA Hall of Famer Bill Walton
Two-time Ironman World Champion and legend Scott Tinley
Former Major League Baseball player Eric Byrnes
Professional sports announcer Craig Hummer
Pro-triathletes Andy Potts, Luke McKenzie, Luke Bell, Tom Lowe, Chrissie Wellington and Meredith Kessler
Actress Kelly Lang from The Bold and the Beautiful
Actress Bianca Kajlich from CBS' The Rules of Engagement
The Bachelor star Dr. Andy Baldwin
Two-time XTERRA World Champion, cancer survivor and world champion para-cyclist Jamie Whitmore
Bob Babbitt, CAF Co-Founder and Editor-in-Chief of Competitor magazine
Challenged athlete, author and reality TV star Sarah Reinertsen of The Amazing Race
The San Diego Triathlon Challenge is made possible thanks to CAF's many supporters and sponsors including title sponsor Aspen Medical Products, Dodge, XTERRA WETSUITS, Philadelphia Insurance Companies, Converse, Kaiser Permanente, Wells Fargo, ASICS, Sport Chalet, Union Bank, Headsweats, Össur, IRONMAN, REFUEL "got chocolate milk?", Lusardi Construction Company, LifeProof, Hi-Tech Bikes, Sixteen Fifty Creative Intelligence, MuscleAidTape.
To see photos from SDTC, find us on Facebook or Twitter, go to @CAFoundation and search #BestDayInTri.
Logo courtesy Challenged Athletes Foundation