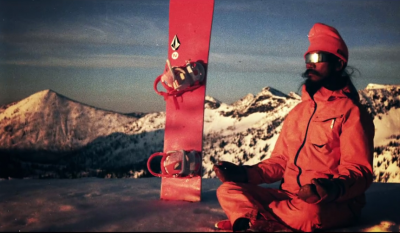 The self-described "narrative-driven style" that is used throughout Valhalla is the first indicator that it's unlike any other ski film to date.
The next indicator is that it features naked people skiing.
"Beyond action sports—with Valhalla's totally unique style and structure, we've recognized an opportunity to put a daring new spin on the ski film, exploding the boundaries of the genre, opening the eyes and melting the hearts of any story-loving soul," the Vimeo trailer description reads.
Valhalla, which premiered on September 13 in Denver Colorado, tells the story of a man who is on a journey to rediscover the freedom of his youth. He recognizes "the frozen north" as where the answer is hidden, and so his search begins.
The description on the film's website reads, "The weightlessness of youth: every breath radiates opportunity and hope; every sense thrives on the wealth of the present; every thing whispers of brilliance and awe. When you've seen the season's first great snow through the eyes of a child—you've known true happiness. But what happened to that simple joy? Where do we find the freedom that time and wisdom stole away?"
The film is the fourth from Sweetgrass Productions, which also created Solitaire, Signatures, and Hand Cut. For those who are concerned this narrative style will take away from the action of backcountry skiing and snowboarding, the audience need not worry, as the film is packed with both.
Shot in British Columbia and Alaska, it stars Cody Barnhill, Sierra Quitiquit, Alex Monot, Pep Fujas, Eric Hjorleifson, Kazushi Yamauchi, Zack Giffin and Molly Baker.
Also featured are Carston Oliver, Adraon Buck, Kye Petersen, Aidan Sheahan, Nick McNutt, Eliel Hindert, Stephan Drake, Will Cardamone, Trevor Hunt, Jesse Hoffman, Austin Ross, Paul Kimbrough, Thayne Rich, Johan Jonsson, Donny Roth, Piers Solomon, Johan Olofsson, Alex Yoder, Ryland Bell, and Josh Dirksen.
John Stifter wrote a review of the film for Powder after he attended the Denver premier:
"Ultimately, I've never watched a ski film where I wanted to read the script, like I would a drama film. Valhalla may not enter the ski-porn movie masterpiece pantheon, but it's certainly the most thought-provoking and original take on the ski film genre in a long time. That, and the cinematography, makes me want to watch it again. And again."
Check out the trailer below a visit the website to find screening dates and locations.
Image is a screenshot from video by https://vimeo.com/72229621 on Vimeo