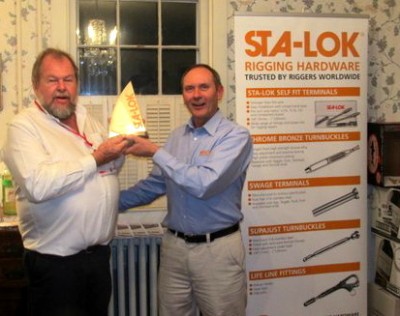 – At the United States Sailboat Show in Annapolis earlier this month, STA-LOK Terminals, leading manufacturer of stainless steel rigging hardware, presented Sailing Services, Inc. with an award recognizing Sailing Services' 40 years of service to STA-LOK's customers in North America.
Brooks Paul Jones of Sailing Services accepted the award from STA-LOK Managing Director Terry Barfield. "It's been a pleasure working with Terry and his team at STA-LOK for the past four decades. Our long relationship is a testament to the quality and reliability of STA-LOK hardware for the most discerning riggers and sailors," Jones said.
"Brooks and his highly professional staff have been responsible in large part for the ongoing success of our rigging hardware business in North America. It's an honor to be associated with Sailing Services and we look forward to many more years of our partnership," Terry Barfield said.
STA-LOK self-fit terminals are the easiest and most efficient way to terminate 1 x 19, 7 x 7, 7 x 19 and Dyform wire ropes. Manufactured from type 316 alloy for superior rust resistance, stronger than the rated breaking strength of the wire. Simple to install with basic hand tools. Available in imperial and metric wire sizes from 1/8" (3mm) to1" (26mm) for right and left hand lay wire.
STA-LOK swage terminals are available in a wide range of designs and can be used with all types of swaging machines. Manufactured to US military spec from 316 stainless steel grade 1.4401 and machined to close tolerances to ensure accurate termination. Available in imperial and metric wire sizes from 1/8" (3mm) to 1" (26mm).
STA-LOK chrome bronze turnbuckles, forged from high strength bronze, are stronger than the wire rope. High polished chrome plate finish. Available in imperial and metric wire sizes from 1/8" (3mm) to 1" (26mm).
STA-LOK stemball self-fit terminals for terminating yacht shrouds. Using standard stemball cups (ordered separately), the head size of the reusable stemball self-fit terminal can be increased to fit any mast and spreader attachment. It can be hand fitted instead of machine swaged and easily installed with hand tools. No pre-measurement of shroud lengths is required.
For more information about STA-LOK products and to request a copy of the new STA-LOK rigging hardware catalog, visit www.stalok.com, email [email protected] or call 1+203.453.3090.
Image courtesy STA-LOK