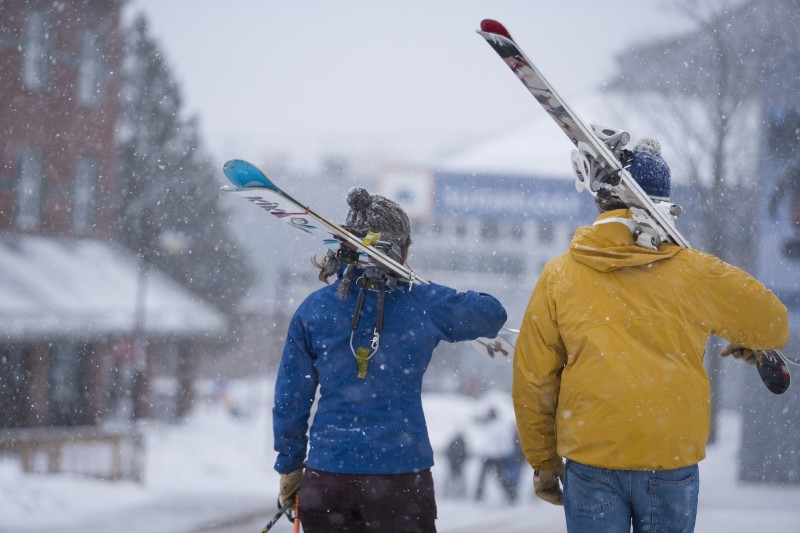 Buy that reduced-price gear and score freebies on everything from lift tickets to knick knacks.
Where?
A ski show.
Across the land, ski shows stoke the burning passions of skiers and riders itching to get on the slopes.
With gear deals, high-flying events, lift ticket offers, contests, and lots of stocking stuffer swag, ski shows groom the snow-loving masses for the impending season of snow.
"There are surprises down every expo aisle, new vendors introducing new products, lots of freebies like posters, t-shirts and handy pocket-sized gizmos," emailed Boston Ski and Snowboard Expo communications director Kathe Dillmann.
Plus, it also gives ski area staff chances to interact with skiers and riders looking for where to go on the snow.
"Expo is the place for a ski area to brag, boast, entice and meet and greet customers and potential customers," she shared. "They get to roll out the news on what's happening in the season ahead with programming, facilities, and pricing, and work the crowd with special expo-only offers on lift tickets, season passes and vacation packages."
Here's a ski show sampler:
Advance to Albany
It calls itself on of the longest-running consumer winter sports shows in the nation. That's the 52nd annual Albany Ski and Snowboard Expo in the Empire State's capital November 1 to 3.
The annual event at the Empire State Plaza Convention Center showcases the latest models from the industry's leading retailers and manufacturers while offering shoppers huge early season discounts on top brands.
Advance discount tickets are available for $7 online at albanyskiandsnowboardexpo.com. Tickets are $10 at the door.
The first 400 advance ticket purchasers or fullly-paid admissions through the box office on November 2 and 3 will receive a free lift ticket voucher to one of 10 participating New York mountains.
Digging Denver
They're already skiing in Colorado and Denver's 22nd annual Colorado Ski and Snowboard Explo at the Colorado Convention Center in Hall A is set for November 8 to 10.
Look for deep discounts, like 40 to 75 percent, on last season's inventory and special buys during the ski and snowboard sale, and reps from nearly 25 Colorado, Utah, and other Western resorts (including Canada) dispensing the latest news from their mountains.
There's also plenty of hands-on stuff. The Mountain Activity Center is back with the popular Slackline exhibit. The Keystone Jumphouse and a climbing wall are also two zones for burning energy while working on strength and balance. Members of the U.S. Ski Team may show up, too.
Show admission is $12 for adults or $10 with a discount coupon available in The Denver Post or at any Colorado Ski & Golf or Colorado Ski & Sports store. Discount tickets can also be purchased in advance at skisnowboardexpo.com.
Seriously Seattle
Seattle skiers and riders are dazzled by Seattle Ski and Snowboard Show November 8 to 10 at CenturyLink Field Center because a paid admission yields a free ticket with some blackout dates to one of five Washington ski resorts.
They also get a $10 Liftopia gift card.
Exhibitors go beyond Washington, including resorts from Wyoming, Idaho, Colorado, Oregon, Montana, California, and the Canadian Rockies.
A giant Ski Idaho Pavilion will feature Sun Valley, Schweitzer, Brundage, Silver Mountain, Grand Targhee, Lookout Mountain, and many more Idaho travel and tourism specialists.
Scheduled events include continuous free ski lessons on a 60-foot ski school ramp,  a pre-season fitness test on the two-story climbing wall as well as cooking demos and winter travel seminars.
Adult admission is $15. There is more information at skidazzle.com.
Bound for Boston
There are usually some famous Olympic faces on the floor of the Seaport World Trade Center during the Boston Ski and Snowboard Expo November 14 to 17. With Sochi within sight, the show's something of a kick-off to the Olympics for many searching exhibits that include a slew of New England resorts but also many from across North America and beyond.
Olympians slated to make appearances include Seth Wescott, Hannah Kearney, Donna Weinbrecht, and Tommy Moe.
More than 50,000 people tend to show up after paying the $12 admission (discounts at onthesnow.com).
Among the events are the Fall Brawl Skateboard contest, a Cross Country Ski Area Association demo track and a learning center for kids. The pre-season retail sale has items up to 70 percent off.
Vegas Value
SnowJam Las Vegas is a good bet November 23 and 24. The ski and snowboard expo is held at the Cashman Center and the $15 paid admission is good for both days. Register online beforehand at snowjamshow.com and get a free lift ticket to Brian head in Utah's southern Wasatch Range.
Pay for admission and also get a free SnowJam Card that allows for discounted lift tickets and more.
So take in a show before hitting the snow.