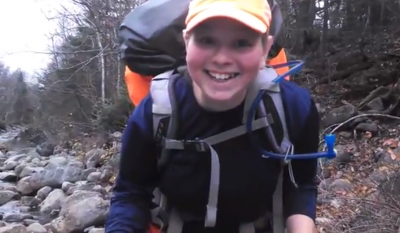 Like many others have done in the past, Neva Warren is in the process of thru-hiking the Appalachian Trail. Of the approximately 2,000 people who attempt the long trail each year, only about 25 percent of them actually complete it.
What makes 15-year-old Warren's journey unique is that if she succeeds, she will become the youngest person to ever complete a solo hike of the AT. The 2,000-mile trail that spans from Georgia to Maine typically takes about six months to finish.
The young hiker began her journey on April 1 and is currently about 30 miles from reaching the end, according to updates posted on her family's website. Warren, receiving the nickname "Chipmunk" along the way, started in Georgia at the trail's southern end, and has already passed through the Carolinas, Tennessee, Delaware, Virginia, Maryland, Pennsylvania, New Jersey, New York, Vermont, Connecticut, Massachusetts and New Hampshire.
"[The AT] shows you what your body can do," Warren is quoted as saying on Oct. 3 in an article by the Bangor Daily News. "It's not often when your body is pushed to the absolute limit, where you just feel you can't take another step, you're completely exhausted and then still doing six more miles. It feels really good and very powerful. I mean, you're not enjoying it as you're going through it, but afterward it's like, thank god it's over. Good job. I did it. It makes you feel a lot of pride."
While Warren and her family were apprehensive about dangers the solo trip could pose, she said she took plenty of precautions. Her parents do not hike with her, but they are nearby in a camper van in case of an emergency. She uses a Spot GPS Tracker that is monitored by her parents.
"I expected to run into a lot of issues because you come onto the trail, and it's a bunch of big bearded men who look pretty scary," she said in the article. "But they're honestly some of the nicest, most generous, kind people I've ever met in my entire life. It's just really taught me that you can't really judge people by their appearances."
Warren is typically able to reach a road crossing before dark, where she meets her parents and sleeps in the camper. However, there have been a number of times where she has stayed in AT shelters with other hikers. Despite sleeping in the camper most nights, she always carries a full backpack complete with food, water, and shelter.
Her parents are who fueled her adventurous spirit, teaming up with their daughter on her 13th birthday to bike 3,842 miles on the east coast to help support BMX racing. She considers this the first of the goals reached on her bucket list, with the AT as the second. She has a total of 12 tasks on her list she wants to accomplish.
"All three of my children, three different personalities, and when they come to me at that time of their lives when nothing seems impossible, I want them to know that nothing is impossible," said her mother, Tammy Warren, in the article. "So when they come to me and they have an idea, we figure out a way."
Warren's family, who lives in New Jersey, was able to make the trip work because they homeschool their children. She was able to work ahead in school so she could afford to take the extra months off to hike the AT. The only break she took was on her birthday in June in Virginia, where she relaxed for a few days.
"I think a lot of the time, when you don't do big adventures like this and you don't spend a lot of time alone—when you're sort of on your phone or talking with friends—you don't really learn how to entertain yourself," she said. "When you're alone for 12 hours and have nothing to do but walk, I've learned a lot about keeping myself from getting bored without the help of electronics."
Although her positive spirit is evident, the entire trip hasn't been easy. She has dealt with the norovirus as well as experienced mental and physical challenges, noting that age played a huge factor.
"I don't really get taken seriously a lot of the time," she said in the article. "When you're adult, you sort of take it for granted that people will take you seriously and not really laugh in your face when you say you're hiking the AT. So I've had some challenges socially like that."
For people interested in getting involved with Warren's cause, she has asked that people donate to HIKE for Mental Health, which she is raising funds on her journey.
Image is a screenshot from video by RidetheNationFamily on YouTube