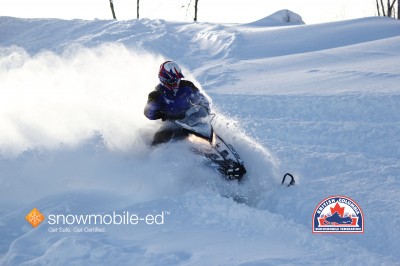 British Columbia residents who need to complete a snowmobile safety course to get their snowmobile safety certificate or insurance discount can now complete their training at Snowmobile-ed.com. The course is approved by the British Columbia Snowmobile Federation, and is the only mobile-ready snowmobile course that features live-action video.
"The new British Columbia snowmobile course is a great way for residents to become educated online, at their own pace, while learning all the key safety information we find important," said Erin Hart, president of the British Columbia Snowmobile Federation. "The course uses video, animations and more to teach those valuable lessons. Partnering with snowmobile-ed.com was a natural choice. Together we're educating and putting safety-conscious riders on the trails."
The course is available on any device, so students can access the course on the Web even if the only way they have to connect to the Internet is via their smartphone. Plus, the new mobile-ready course features videos, realistic illustrations and interactive animations that make it easier and more fun to learn how to safely operate a snowmobile. The course's snowmobile safety video series teaches about the appropriate riding gear, riding in various conditions, loading and unloading, plus much more.
"Our goal in developing this series was to create videos that would be fun for students to watch. We wanted to use humor, where appropriate, to focus the student's attention on the safety advice," said Kurt Kalkomey, president of Kalkomey Enterprises, Inc., which produces snowmobile-ed.com. "We also wanted to avoid lecturing. Our videos are meant to engage students with opportunities to explore and select the best options for staying safe while operating their machine. This helps students develop true understanding rather than just memorizing the lesson."
The training offered at this site is approved by the organizations responsible for snowmobile safety education, and it's the same material that's taught in the Today's Snowmobile Rider manual. Studying at Snowmobile-ed.com is free. To get a safety education certificate before operating a snowmobile, students pay a one-time fee only after passing the exam.
Logo courtesy Snowmobile-ed.com