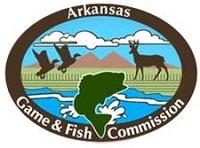 For the past 10 years, the Gov. Mike Huckabee Delta Rivers Nature Center has hosted "Boo on the Bayou." The popular program returns again Oct. 25-26 from 6 p.m. to 9 p.m.
It features a half-mile haunted trail, as well as flying ghosts and bats in a wind tunnel. In addition to the games relating to Arkansas animals, there are carnival games, food and family fun. The event is free to the public.
Parking is available across from the softball fields, with a bus providing transportation to the front gate. The public is encouraged to wear their Halloween costumes.
Logo courtesy Arkansas Game and Fish Commission