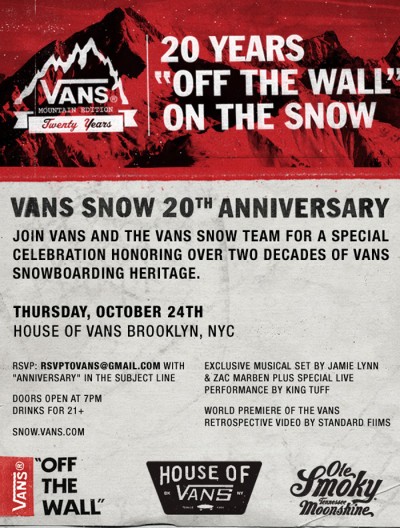 Vans proudly announces the 20th Anniversary of Vans Snow this winter season, honoring more than two decades of influential boot design, individual expression and authenticity in snowboarding. Shaped by Vans' renowned heritage as the original action sports footwear brand since 1966, Vans Snow cements it legacy in snowboarding with 20 years of iconic heritage dedicated to being "Off the Wall" and on the snow.
In celebration of this historic milestone, Vans Snow anticipates an exciting season ahead, bringing forth a brand new offering of technical boots and accessories and kicking off the launch of the "Mountain Edition" collection, a functional, streetwear-inspired hybrid apparel line. The 2014 collection will include an exclusive 20th Anniversary capsule, complete with V-66 boot, jacket and socks. And finally, Vans will release, "Twenty Years: Off the Wall, On the Snow", a definitive retrospective film on Vans Snow by respected snowboarding filmmaker Mike Hatchett of Standard Films.
On the heels of Vans' cultural influence in skateboarding and surfing in the early 90s, Vans made its debut on the mountain, employing nearly 30 years of footwear expertise to introduce the first Vans snowboard boots. Transforming what were then glorified duck boots into functional designs, Vans set out to deliver comfortable, performance-driven snow boots that optimized the mountain experience but still looked and felt like your favorite skate shoes.
From that moment on, the emphasis on comfort and style lead the way for Vans Snow, igniting a revolution of industry firsts, team accolades and events that would play an influential part in the evolution of snowboarding. In 1997, Vans was the first brand to release signature boots custom designed by their riders, building momentum toward a long roster of influential style icons including Jamie Lynn, Shaun Palmer, and Circe Wallace. With iconic personalities who embody Vans' "Off the Wall" spirit, Vans established its reputation for individual expression, cultivating a unique enthusiasm for the snowboarding that is stronger than ever today.
In 2001, Vans became the first brand to partner with BOA, reinventing the approach toward boot closure and laying the groundwork for Vans' most innovative collection to date. Backed by years of signature designs, special collaborations and feedback from our team, Vans Snow champions the importance of customization, leaving riders in the best shape for comfortable yet progressive riding.
Vans Snow remains dedicated to progressing the industry, supporting the local scenes through grass roots and style-focused events such as the Hi-Standard Big Air series, and by providing a unique platform of creative expression for up and coming amateur riders.
Twenty years later, Vans Snow embraces its commitment to the industry by paying homage to individual expression and timeless style with an intimate celebration in New York at the House of Vans. The unique gathering will feature a gallery of personal artwork by select riders from the Vans Snow team along with a private screening of the Vans Snow retrospective film, and musical sets by Vans team riders Jamie Lynn and Zac Marben, and garage rock band King Tuff.
Image courtesy Vans