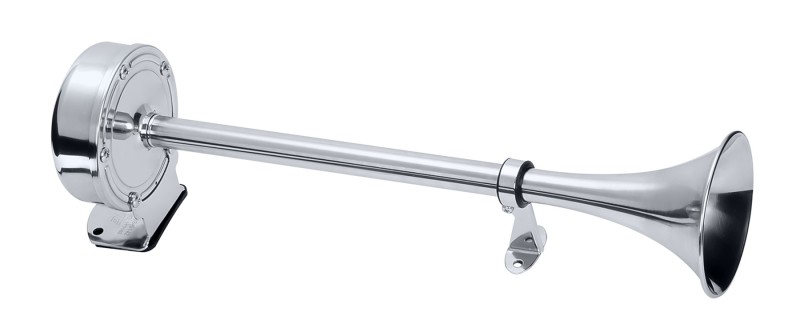 A loud, clear marine horn is an essential form of communication onboard. But rain, condensation, salt spray and other water sources can promote rust and mute its volume over time. To combat this problem, Schmitt & Ongaro has re-engineered its classic trumpet horn, creating a watertight instrument that shrugs off moisture.
One of the loudest on the market, with a rating of up to 125 db at 3′, this trumpet horn has always been a customer favorite. Now a small, unobtrusive draining feature makes it even better.
Accumulated water, whether from boat cleaning or wet conditions, drains through the hole. No matter how often the horn gets wet, it retains its original volume. The drain hole even allows the horn to be mounted at an upward- or downward-tilting angle without incurring water damage.
Constructed of 304 stainless steel, including the sealed sound unit, this horn is sleek and shiny. Both single and dual trumpet horn models are available in either 12 or 24 volt versions.
Schmitt & Ongaro offers a five-year warranty against rust on all its fully stainless steel horns. All meet ABYC A-23 for boats up to 39′ (single trumpet) and 65′ (dual trumpet). All horns come pre-wired and fit existing hole patterns. Retail prices for the stainless steel trumpet horns start at $120.
Image courtesy Schmitt & Ongaro Marine Products