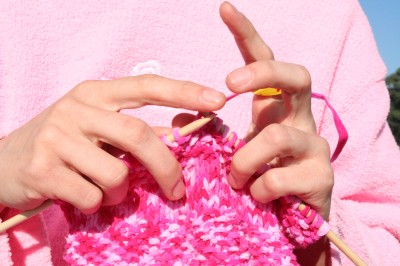 Like many people, David Babcock was successful in completing Saturday's Kansas City Marathon. Unlike everyone else, he also knitted a scarf along the way.
According to an article published by The Kansas City Star, the runner chose to combine his hobbies of running and knitting in order to break the Guinness World Record for knitting the longest scarf while running a marathon. The final product was 12 feet, 13.4 inches long.
Although the task seems unusual, it has been done before. In 2008, Susie Hewer knit a scarf that was five feet, two inches long at the Flora London Marathon, and then went on to beat her own record this past April, also in London, with a six-foot, nine-inch scarf.
Both former record-holder Hewer and Babcock are hoping to raise money for Alzheimer's disease research—Babcock said he would love if people donated to the Alzheimer's Association. Those interested can visit his website, where a link to the association can also be found.
Check out a video below of Babcock knitting while running.
Image from Johntex on the Wikimedia Commons