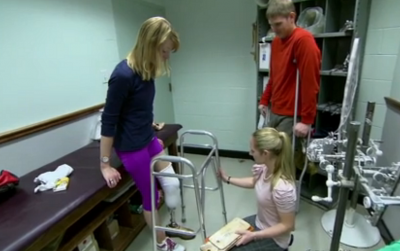 Adrianne Haslet-Davis made it clear in a short film posted by TIME that she never wants to be referred to as a victim, but rather a survivor.
Haslet-Davis was one of the runners injured during the Boston Marathon bombing, and she decided to document her recovery over the past six months. In addition to being a runner, she was a dance instructor. After losing her left leg below the knee during the bombing, she vowed to some day dance again.
"I think I'm further than I thought I'd be in six months. I remember first getting my prosthetic and thinking it would take forever, also thinking [at] the same time, I've gotta do this," she said in the video. "I had made a very strong point to not dwell on the people that did this. I insist on being called a survivor and not a victim—a victim gives him ownership on me and I am not having that.
"That means that I somehow belong to somebody or I am suffering because of him. I'm not suffering. I'm thriving."
View the TIME video below.
Image is a screenshot from video on TIME Video