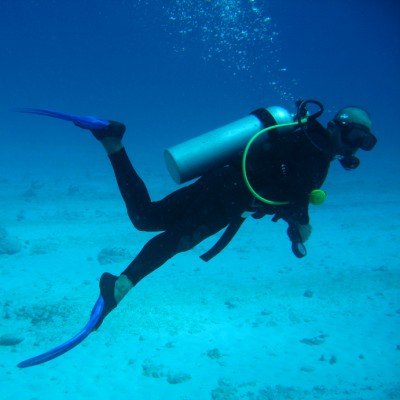 Sean McGahern spent more than two days underwater to set a new world record for the longest warm water scuba dive. Influenced by his love for scuba diving as well as its ability to raise funds for charity, he set out to break the previous record set by Will Goodman in 2010.
According to an article published by the Daily Mail, McGahern spent 49 hours and 56 minutes at the bottom of the Mediterranean off the coast of Malta. In addition to this most recent record, he also holds the longest open saltwater scuba dive world record of 12 hours and 34 minutes. The 35-year-old diver was able to eat, drink, and sleep during his long dive.
"The food was brought down to me by two divers at a time. The divers were on a rotation duty throughout my time underwater," he told the Express. "I had cuppa soup in a sports bottle stored with me if I got too hungry."
He said some of the challenges he faced were exceptionally strong winds, currents, surges, as well as one-meter-tall waves.
McGahern, who grew up in Brighton, East Sussex, England, said he spent most of his time underwater cleaning up the trash that had gathered on the sea floor of St. George's Bay. Not only did this make the time seem to pass faster, but he benefited the environment as well.
Among the debris he discovered were bottles and chairs, which were brought out of the water by a dive team from World Record Diving Malta and the St. John's Rescue Corp, both of which monitored his record-breaking dive.
The seasoned diver, who has completed more than 2,000 dives, was accompanied for part of the time by his diver fiancee, Mikaela Papagiorcopulo. He secured a make-shift lounging chair at the sea floor, which he used to relax and sleep on. 
According to the Daily Mail, McGahern was in a good spirits when he came out of the water, and was both exhausted and ecstatic after his feat that broke the previous record by more than an hour.
"You're only as good as your last game," he told the Express. "I now hold all salt water endurance records in open sea in both cold and warm water and I feel damn proud."
After a failed attempt at breaking his own cold saltwater diving record this past March, the diver seemed pleased to have succeeded in another area. In March, he had to be transported to the hospital after only a few hours underwater because he went into hypothermic shock when his suit let in water.
The recent dive not only gave him recognition, but benefited the charity Inspire, which provides therapy, education, and leisure services to those with disabilities in Malta and Gozo.
Check out the video below of McGahern eating a hard boiled egg during his more than 49 hours underwater.
Image from Soljaguar on the Wikimedia Commons