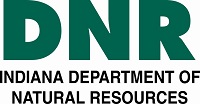 Monroe Lake naturalist Jill Vance will lead a 4-mile hike to the Allens Creek State Recreation Area fossil beds on Monday, Nov. 11.
The 2 p.m. hike is free but limited to 20 people. The registration deadline is Nov. 7. Participants should register by emailing [email protected] with their name, phone number, and the number of people in their group.
"This is easily the most popular hike that I offer," Vance said. "It always fills and always has a waiting list. I strongly recommend signing up early if you want to join us."
The focus of the hike is a rocky shoreline so dense with crinoids, corals, and geodes that it's next to impossible to find "plain" rock. On the hike to and from, Vance will discuss the broader geological story of the fossil beds.
The hike goes over moderately hilly terrain. The hike takes about 3 hours. It is not recommended for children under 12 years old.
Monroe Lake is at 4850 South State Road 446, Bloomington, 47401.
Logo courtesy Indiana Department of Natural Resources