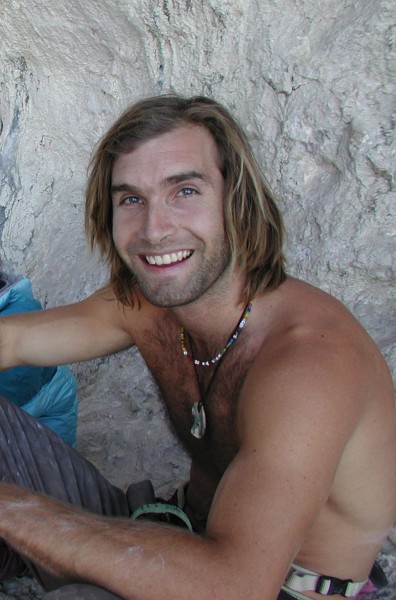 In 2007, NPR called Chris Sharma "the world's best rock climber," and it seems as though he's been living up to that name ever since. The 32-year-old climber is known for taking on some of the most challenging climbs.
Sharma grew up in Santa Cruz, California, but never really established a connection to the sports that were available to kids his age, such as surfing, soccer, baseball, and skateboarding.
"I was mediocre at these sports," he told The Star Online.
It was at age 12 that Sharma discovered the world of rock climbing after he decided to sign up at a local gym.
A mere two years later, he had perfected his climbing skills enough to win the Bouldering Nationals. One year after that, at age 15, he completed the first ascent of Necessary Evil, which was a 5.14c climb in the Virgin River Gorge. At the time, it was considered the highest-rated climb in North America.
His accomplishments continued with the completion of a bouldering problem in California called The Mandala, the extension of the existing route of Biographie in France, and finishing a deep-water solo project in Mallorca, to name a few. Biographie, which he renamed Realization after his extension was recognized, was considered the first 5.15a climbing grade in the world. Sharma has now completed and established a number of routes at or above this grade.
The climber has been featured in several films, including 2007's King Lines, which follows him on his first ascent of Es Pontas—a Mediterranean deep-sea arch that still has not been repeated by another climber.
"I never really set out to be the best," Sharma told The Star Online. "Being the best has never been a goal—climbing is more of a personal journey."
He has been featured in a number of other documentaries and TV series, such as Reel Rock 7, First Ascent, Reel Rock Film Tour, Progression, and Rampage.
National Geographic published a video on November 15, 2011, Beyond the Edge: The Impossible Climb: Chris Sharma, which features Sharma as he tackles a 200-foot overhanging cave that is located at the top of a mountain in southern California.
Sharma said a lot of what keeps him going is the drive to visit new places.
"Meeting new people from foreign places. Speaking new languages. Going on adventures and being spontaneous," he said in an interview with Climbing. "You never know what's going to happen. You meet someone and you end up staying at their house. And climbing in exotic places. Exploring the world."
Despite his passion to advance personally in the sport, Sharma wants to make sure other people get involved in climbing as well. In 2013, he opened his own gym, Sender One, which is located in Santa Ana, California.
"You try something that is way above your level and it requires a huge amount of dedication. In those situations, that's when I feel the best. I feel like I'm living my purpose in my life. If I have a project that really motivates me, everything is perfectly clear," Sharma told Climbing. "There is no confusion about what I should be doing. Everything is obvious. I'm here trying this project, that's what I'm here to do. I need to find things that push me mentally and physically to my ultimate level. The projects are really psychological. There's a lot learned during that journey."
Image from Mocco2 on the Wikimedia Commons