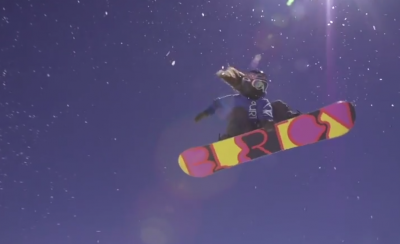 Burton recently released its third of four web episodes centered around snowboarding—this time focusing on the women who are making it big in the sport.
The first two episodes, "Backcountry" and "Street" were released on August 13 and September 27, respectively. The fourth and final episode, "Resort," will be released on October 25.
The new episode features snowboarders Kimmy Fasani, Kelly Clark, Hannah Teter, Arielle Gold, Enni Rukajärvi, and Cilka Sadar. Each snowboarder detailed how they first became interested in the sport, why they love it, as well as the challenges it presents for them.
"You know, snowboarding was so new, it was so different. I just fell in love with it," said Clark, who started her career in the sport in 1990 at the age of nine. "I think there was room for creative expression […] if I do a trick and my buddy does a trick, it looks completely different. I love that there's that room for individuality."
There were a number of people who commented that they wished the video included more action footage, and although the interviews were a great way to understand the personalities of the riders, the main point of the episode was lacking.
"From the backcountry, to the halfpipe and slopestyle, watch as they break down the stereotype that women can't hang with the guys. These riders don't just talk about pushing limits and why it's so important for women's snowboarding—they show it," the episode's description on Burton's website states. 
Although there were also plenty of positive comments posted below the video, a fair amount of people mentioned how as good as Burton's intentions were, the episode furthered the sexism that is evident in the sport.
Commenter Will Szal wrote, "I don't think it does justice to how awesome these women are, especially compared to the two episodes you've released before. If you really cared about your women, I think you wouldn't segregate their footage into a separate film, but integrate it throughout."
The episode was filmed by Corey Koniniec, Gabe L'Heureux, Hotwing, Justin Eeles, and Tim Manning and was edited by Andro Kajzer.
Check out "WOMEN [SNOWBOARDING]" below.
Image is a screenshot from video by Burtonsnowboards on YouTube