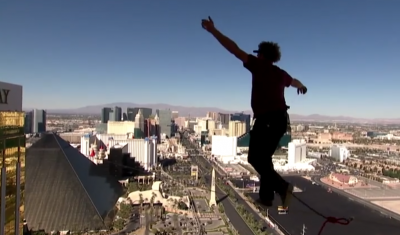 Andy Lewis was successful in his stunt of walking across a slackline that was rigged between the two towers of Mandalay Bay on October 16 in Las Vegas.
The feat, which was planned through a partnership between Cirque du Soleil and Gibbon Slacklines, made Lewis the longest urban highline world record holder. The slackline was 480 feet in the air and 360 feet across.

The stunt helped to kick off the World Slackline Federation's World Cup Finals, which were held the following day. Lewis was joined in the air by fellow slackliners Hayden Nickell, Josh Beaudoin, and Mickey Wilson, who performed tricks while Lewis was setting the record.  
Utah resident Lewis was able to tune out the planes taking off at nearby McCarran International Airport as well as light wind, according to an article published by the Las Vegas Review-Journal.
The slackline he walked across was less than two inches wide, and it only took Lewis three attempts to succeed.
Lewis first gained a significant amount of attention outside of the sport's community when he performed with Madonna at the Super Bowl XLVI halftime show.
"We're no strangers to executing gravity-defying stunts," said Emilio Torres, VP of sales at Gibbon Slacklines, in a news release. "However, this mega-stunt brings slacklining to a new level and showcases what the incredible Gibbon athletes can pull off. We are thrilled to be teaming up with Mandalay Bay and Cirque du Soleil to show the world what we can do."
Check out a video of the stunt below.
Image is a screenshot from video by Barcroft TV on YouTube