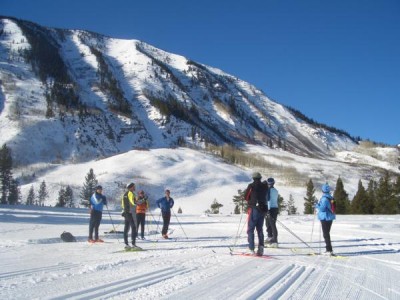 With snow already gracing the mountaintops, the Gunnison-Crested Butte Valley prepares to greet winter in style with plenty of early season winter fun, deals and options for Thanksgiving celebrations.
Crested Butte Nordic Center kicks off its season on Nov. 23, and Crested Butte Mountain Resort opens Nov. 27 with a day of free skiing for everyone, live music and a "Blizzard of Oz" theme. There are incredible early-season deals as well as the chance to plug into a wide range of events in November and the first two weeks of December.
Early-Season Deals
Crested Butte Mountain Resort not only has free skiing and snowboarding on Opening Day on Nov. 27, the Early Season Ski Offer makes it extremely affordable to stay longer for only $79 per person, per night to ski and stay at Grand Lodge in Mt. Crested Butte.  This offer is available Nov. 28 – Dec. 17, 2013, and some restrictions apply.  For information, call (800) 810-7669.
With Three Rivers Resort's Early Season Ski 'n Stay from $107 package, two people can ski for two days (a total of four adult lift tickets) at Crested Butte Mountain Resort and stay in a comfortable and spacious lodge room for two nights. This deal is based on double occupancy and is valid from when the ski area opens until Dec. 12, 2013.  Other lodging options are available for an extra cost. Taxes and fees may apply, and the deal must be mentioned when booking.  For details, call (970) 641-1313.
Stay at The Ruby of Crested Butte bed and breakfast for one night this winter season and the second night is only $1. Butte for a Buck is valid Monday through Thursday stays from Nov. 1, 2013 – Jan. 31, 2014 and is available for new reservations only. Holidays and certain blackout dates apply, so call (800) 390-1338 for more information.
For those traveling to the Gunnison-Crested Butte Valley for Thanksgiving, or anytime between Oct. 27 – Dec. 1, 2013, Days Inn in Gunnison is offering a Thanksgiving Lodging Deal for only $62.99 per night.  To book, call the hotel direct at (970) 641-0608.
Thanksgiving Happenings
Turkey and all the trimmings don't mean foregoing a day in the great outdoors. Woodstone Grill located in Mt. Crested Butte's Grand Lodge will have a Thanksgiving buffet, and Almont Resort will be serving a traditional Thanksgiving dinner in Almont.  As the holiday nears, more restaurants will announce special menu items for Thanksgiving.
Work off the turkey with Crested Butte Nordic Council's annual Thanksgiving Training Camp  on Nov. 28 – 30.  Beginning, intermediate and advanced skate and classic clinics, as well as clinics for women only and Masters racers, will be offered by a team of talented instructors including experienced coach and Olympian Ingrid Butts, Professional Ski Instructors of North America examiner Ross Matlock, and Crested Butte Nordic Center's (CBNC) Toni Westerholm.  Participants also can take Pilates classes for overall fitness and learn about waxing techniques. Camp concludes with a Winter Kick-Off at Secret Stash, with great food, cocktails, music and a silent auction.  For a list of clinics, registration and additional information, call (970) 349-1707 and visit www.cbnordic.org.
Gear Up
The annual Irwin/LaSportiva ISMF Race on Dec. 7 at 10 a.m. will include a race division for skiers with International Ski Mountaineering Federation licenses or who wish to compete in a COSMIC (Colorado Ski Mountaineering Cup) series category as well as a recreation division. There are several categories within each division, with the race division conquering approximately 5,000 feet of elevation gain/loss and more than 10 miles and the recreation division experiencing 3,500 feet of elevation gain/loss over 6.5 miles.  Participants must get to Irwin on snowmobiles or scheduled snowcat rides. For all the details, costs and race requirements, go to www.elkmountainevents.com/irwinlasportiva-ismf-race.
Crested Butte Nordic Center kicks off its Citizen's Race Series on Dec. 14 with a 5K/10K Classic that is competitive and fun for all ages and abilities.  Races of various lengths are held in December and January on CBNC's groomed trail network with registration happening at the race venue from 8 – 9 a.m.  Kids' races start at 9:30 a.m., and adult races begin at 10 a.m.  Go to www.cbnordic.org to find out venues (posted the week of the races) and a full schedule.  The cost is $12 for adults and $2 for kids under 12.
Holiday Cheer
Get an early start on holiday shopping and celebrating in November and early December.  The 39th Annual Sugar Plum Festival  in Gunnison is a prime stop for handmade gifts and decorations on Nov. 23 at the Fred R. Field Western Heritage Center.  Santa will be available from 9 a.m. – 3 p.m., and Boy Scouts will be serving breakfast and lunch.  For information, call(970) 641-6931.
Gunnison will formally usher in the Christmas season with Night of Lights held downtown on Friday, Dec. 6, 5:30 – 7:30 p.m.  Lighted displays, bonfires for roasting marshmallows, booths with hot cocoa and other free treats, and local entertainment groups provide a festive air. Santa escorts the crowd to the community tree lighting at 6:30 p.m. and hears children's wishes at the nearby Elk's Lodge.  Gunnison Arts Center will launch its Holiday Art Market during First Friday Artwalk & Music on this evening with handcrafted art, jewelry, bath products, knitted items and more created by area artists.  Holiday Art Market will be open for shopping until Dec. 21.
Holiday Open Houses at downtown Gunnison merchants on Dec. 7 and 8 make holiday shopping easy and enjoyable.  For details about the open houses and Night of Lights, contact the Gunnison Country Chamber of Commerce at (970) 641-1501.
Also find a great selection of gifts at Crested Butte Community School's annual Holiday Bazaar on Dec. 7 from 9 a.m. to 4 p.m.  The bazaar features handcrafted items, tasty baked goods and more.  For information, call Jill Hughes at (713) 408-7487.
The Trailhead Children's Museum in Mt. Crested Butte kicks off its holiday programming with Celebrate the Tree Lighting on the evening of Dec. 13.  Families will learn about the tradition of tree lighting while making crafts and enjoying hot chocolate.  On Dec. 15, kids can decorate gingerbread houses. For details, visit www.trailheadkids.org as December approaches.
New for this year, Crested Butte Mountain Resort is sponsoring Santa Day on Dec. 14 in hopes of breaking the Guinness Book of World Records for the most skiers in full Santa costumes.  CBMR is offering discounts on lift tickets and lodging for participants.  Visit www.skicb.com or call (800) 810-7669.
Cultural Connections
First Friday Artwalk & Music in Gunnison on Nov. 1 and Dec. 6 feature great art, refreshments and on-site artists from 5 – 8 p.m.  Call Gunnison Gallery at (970) 641-6111 for participating businesses and details.  Gunnison Arts Center's "Words" exhibition will be unveiled at First Friday and be on display from Nov. 1 – 27.  Visit www.gunnisonartscenter.org.
At Gypsy Caravan on Nov. 2, journey through the labyrinth of gypsy cultures from around the world at this original production by Crested Butte Dance Collective with live music by Gypsy Jazz Social Club.  Performances are at 6 or 9 p.m. at Center for the Arts Crested Butte, with tickets costing $15 for adults and $7 for kids 12 and under. Go to www.crestedbuttearts.org.
Gunnison Arts Center (GAC) continues the popular "AND" workshop series with Clay AND Cocoa for families on Nov. 10, 1 – 4 p.m., and for adults on Nov. 14, 6 – 9 p.m.  Hand craft clay mugs while sipping on hot cocoa (plus a little something extra added on the adult night), with registration for the family workshop costing $25 per person and the adult working $35.  OnNov. 11, GAC will feature David Wilcox in concert at 7 p.m., with tickets available for $22.  Visit www.gunnisonartscenter.org.
Crested Butte Film Festival's Monthly Film Series is back with the showing of "Into the Wild" on Nov. 14 at 7 p.m.  Admission is $10.  Visit www.crestedbuttearts.org
Watch young local talent in action during Crested Butte Mountain Theatre's annual Teens on Stage production of "Harry's Hotter at Twilight" by Jonathan Dorf on Nov. 14 – 16.  Get ready to laugh during this crazed, mash-up parody of the Harry Potter and Twilight series with cameos crashing in from Lord of the Rings, Star Wars, Alice in Wonderland and many other places. Show times and ticket prices will be available on www.cbmountaintheatre.org.
Flash back to the 1970s at Gunni Night Fever, a fundraiser for the Gunnison Arts Center on Dec. 7. The groovy fun starts at 6 p.m. with a silent auction followed by drinks, appetizers and a live auction at 7:30 p.m. and a DJ and dancing at 9 p.m.  The cost is $60.
A few days later, GAC will be offering a fun outing for all ages with its presentation of a traditional Christmas pantomime "Puss & Boots" on Dec. 12 – 14.  On Dec. 12 and 13, the performance begins at 6 p.m., and on Dec. 14 performances will run at 3 p.m. and 7 p.m.  For more details, go to www.gunnisonartscenter.org.
Vacation Packages & Visitor Information
To save on flights, hotel rooms, vacation packages, car rentals and more, call the Gunnison-Crested Butte Tourism Association reservation hotline at (888) 559-0841 or go to http://book.GunnisonCrestedButte.com. For destination information, call (800) 814-8893, visit www.GunnisonCrestedButte.com and find GCBTA on Facebook at www.facebook.com/gcbta.
Image courtesy of Gunnison-Crested Butte Tourism Association