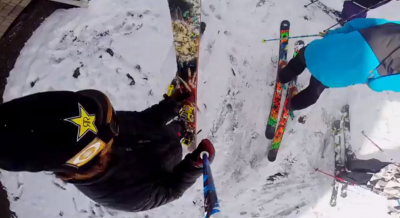 A YouTube video posted last week that features a skier almost running into a cow has garnered more than 150,000 views thus far.
The skier, Candide Thovex, is charged by a cow while out skiing after the first snowfall of the year. The description states he is with his friends, one of them being Sammy Carlson, who filmed the video.
While the exact location is not noted, Thovex is a 31-year-old professional skier from France, and it states he was skiing at his hometown resort. According to his Wikipedia page, Thovex is from La Clusaz in southeastern France, so one can assume he was at the La Clusaz Ski Resort.
According to several commenters on the video, cows are commonly seen on the slopes during the beginning of ski season at the resort.
Check out the video below.
Image from Candide Thovex on the Wikimedia Commons