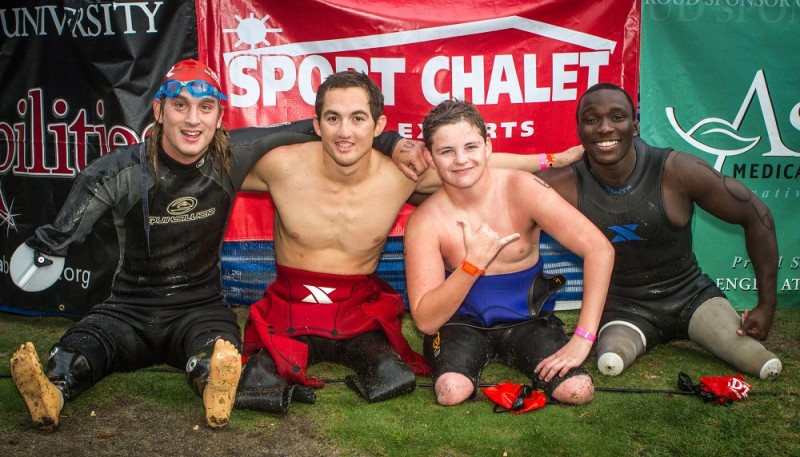 The Challenged Athletes Foundation (CAF), a world-leader in helping individuals with physical challenges get involved in sports, will welcome more than 5,000 supporters, spectators and participants to La Jolla Cove for its 20th Annual Aspen Medical Products San Diego Triathlon Challenge (SDTC). The day-long event, which also includes the 24 Hour Fitness Tour de Covecycling marathon, Kaiser Permanente Thrive-5K Fitness Walk, Philadelphia Insurance Kids' Run and Wawanesa Family Fun Zone, will raise more than $1 million to help physically challenged individuals get the support needed to succeed in sports and in life.
The Aspen Medical Products San Diego Triathlon Challenge, started 20 years ago as a small fundraiser to help a local injured triathlete, has helped CAF raise more than $50 million and change the world's perceptions of those with physical challenges. Though not a race, SDTC is truly an event unlike any other. It features a "challenge" distance triathlon (a 1-mile swim, 44-mile bike, and 10-mile run) in which more than 200 challenged athletes will compete side-by-side with 500 able-bodied athletes. From injured veterans to children born with physical challenges, each year SDTC welcomes athletes of all ages and abilities to provide an uplifting experience and showcase what is possible for challenged athletes. This year, CAF will welcome survivors of the Boston Marathon bombings who will take part in the inspiring day. Other key participants will include celebrities and sports legends such as:
NBA Hall of Famer Bill Walton
Two-time Ironman World Champion and legend Scott Tinley
Professional sports announcer Craig Hummer
Pro-triathletes Andy Potts, Matty Reed, Chrissie Wellington, Meredith Kessler and renowned coach, Matt Dixon
Actress Kelly Lang from The Bold and the Beautiful
The Bachelor star Dr. Andy Baldwin
Former Major League Baseball outfielder, Eric Byrnes
Two-time Xterra World Champion, cancer survivor and world champion paracyclist Jamie Whitmore
Bob Babbitt, CAF Co-founder and Editor-in-Chief of Competitor magazine
Challenged athlete, author and reality TV star Sarah Reinertsen of The Amazing Race
More than 25 members of CAF's Operation Rebound® program, which supports permanently injured service men and women
SDTC award winners (listed below)
The triathlon itself is the culmination of a full weekend of events which also includes the 24 Hour Fitness Tour de Cove, a four-and-a-half hour stationary cycling marathon, and the Kaiser Permanente Thrive-5K Fitness Walk, both of which take place at La Jolla Cove. Challenged athletes of all ages and abilities from around the world travel to La Jolla for this unique event. To provide additional support to these challenged athletes, CAF will conduct four sports clinics beginning Friday, Oct. 19, each designed to teach challenged athletes the skills and confidence they need to reach their fitness and athletic goals. These clinics include the CAF Össur Leg Amputee Running and Mobility Clinic, Wheelchair Triathlon Clinic, Challenged Athlete Swim Clinic, and Challenged Athlete Open Water Swim and Surf Clinic.
Funds raised over the course of the weekend will allow CAF to support challenged athletes by providing grants for adaptive sports equipment, training and competition expenses so they can live active lifestyles and participate in sports. In addition, the Aspen Medical Products San Diego Triathlon Challenge works to promote CAF's mission to raise awareness and change perceptions of what is possible for people with physical disabilities. By participating in the triathlon, cycling marathon, 5K and kids run, more than 200 challenged athletes will demonstrate that there truly are no limits.
This event is made possible thanks to CAF's many supporters and sponsors including Aspen Medical Products, the Dodge Brand, Xterra Wetsuits, Philadelphia Insurance Companies, Converse, Kaiser Permanente, Wells Fargo, Asics, Sport Chalet, Union Bank, Headsweats, Össur, Ironman, Refuel "got chocolate milk?", Lusardi Construction Company, Lifeproof, Hi-Tech Bikes, Sixteen Fifty Creative Intelligence, MuscleAid Tape, Clif Bar, Lock Laces, La Jolla Beach & Tennis Club, Swiftwick, Callaway, Hanger, Oakley, Sunset Parking, TYR, Specialized, Zico, Paul Mitchell, GU, Modern Postcard, La Valencia Hotel, Kinsesys, Sock Guy, La Jolla Shores Hotel, Independent, Riviera Paddlesurf, Sierra Nevada, Hughes Marino, Barney & Barney, La Jolla Cove Suites, Northrop Grumman, Foxtales, Smartwater, and Vitaminwater.
Key Moments & Special Presentations
7:00 a.m.
Parade of Athletes, including introduction of legends, celebrities, challenged athletes and recent Paralympians
7:25 a.m.
Introduction of the Boston Marathon survivors
7:30 a.m.
National Anthem
8:00 a.m.
Swim Start
8:20 a.m.
Hot Corner with Celebrity and VIP Relay Team Tag-offs
9:00 a.m.
Start of the 24 Hour Fitness Tour de Cove
10:00 a.m.
Challenged Athletes Kids Run
11:15 a.m.
Kaiser Permanente Thrive-5K Walk
1:00 p.m.
Special Presentation #2: Presentation to triple amputee Moise Brutus on Tour de Cove stage
2:15 p.m.
Awards BBQ and check presentations at La Jolla Bridge Club
2013 Award Winners
Every year, at CAF's San Diego Triathlon Challenge, these awards are presented to select CAF athletes and supporters who have demonstrated extraordinary amounts of strength, resilience, and guidance.
Trailblazer Award: Jamie Whitmore-Cardenas competed as a professional triathlete and mountain biker for 8 years before being diagnosed with cancer in her sciatic nerve leaving her paralyzed in her left lower leg and without a glute muscle. Doctors said she'd never ride her bike again, but she proved them wrong by winning the C3 Para Cycling road and TT National Championship in 2012.
Aspen Medical Products Most Inspirational Athlete Award: Dartanyon Crockett was born with Leber optic atrophy, a degenerative disease that causes acute vision loss. Legally blind, he won a bronze medal in Judo at the 2012 London Paralympics and has been featured twice on ESPN along with his friend, double amputee Leroy Sutton.
Rising Star Award: Brianne "Breezy" Bochenek was a rising soccer star when diagnosed with cancer at age 11. She decided to amputate her leg to give herself the best chance to be active. Less than two years later she completed her first triathlon – the Wildflower Mountain Bike race – on one of the toughest courses in triathlon.
Jim MacLaren Award: Baron Herdelin-Doherty has dedicated both his personal and professional life to improving life through fitness. After being hit by a car while cycling in May 2011, the President and CEO of YMCA of San Diego benefited from the help of local challenged athletes throughout his recovery. Now Baron has made physical fitness more accessible for all San Diego challenged athletes by partnering with CAF to offer free lifetime memberships to local CAF athletes and their families.
To follow SDTC on Twitter, go to @CAFoundation or #BestDayInTri.
Image courtesy Challenged Athletes Foundation