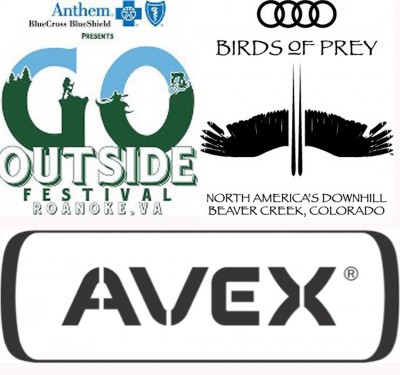 AVEX supports the Go Outside Festival and Birds of Prey Downhill Ski Race
AVEX, makers of performance water bottles and travel mugs, is proud to announce its fall and winter 2013 partnerships: the 2013 Go Outside Festival and Birds of Prey World Cup Downhill Races. Both events feature demonstrations of world-class athleticism and action-packed schedules.
"Go Outside is a fantastic, fun weekend, and Birds of Prey is obviously a top-tier event," said AVEX's VP of Marketing and Product Development, Todd Starr. "They're perfectly diverse, like AVEX, and we can't wait to be involved."
The Go Outside Festival will be held October 18-20 in Roanoke, VA, encompassing over a hundred events in one fun-filled weekend, including music, "Big Air" dog shows, the Red Bill Film Fest, slacklining, gear swap and beer tastings. AVEX is proud to sponsor the UnderDog Pixie Cross and a showcase of freeride brilliance from AVEX athlete and cycling legendJeff Lenosky.
Also at Go Outside, AVEX team rider and mountain bike professional Jeff Lenosky will showcase his freeride skills in the Pro Town BMX Stunt Show. Lenosky, known for his world record mountain bike bunny hop, will perform stunning freeride and trials stunts throughout the weekend.
Jeff Lenosky Showcase Schedule
Friday:        6pm and 8pm
Saturday:   2pm, 4:30pm, and 7:30pm
Sunday:      1pm and 3pm
Heading into winter, AVEX will sponsor the Birds of Prey World Cup ski race, held in Beaver Creek, CO, on November 29 – December 1 and again December 6-8. As one of the only World Cup stops in North America, the race is internationally acknowledged as a premiere downhill ski race.  Famous for steep and rolling terrain, the expertly designed Birds of Prey course makes for dramatic, ultra-competitive racing. AVEX will supply water bottles to keep athletes, spectators and event staff properly hydrated.
For more information about the Go Outside Festival visit: roanokegofest.com
For more information about Birds of Prey World Cup Downhill Race visit: vvf.org/athletics/birds-of-prey-world-cup
For more information about Avex visit: avexsport.com
Logos courtesy Avex