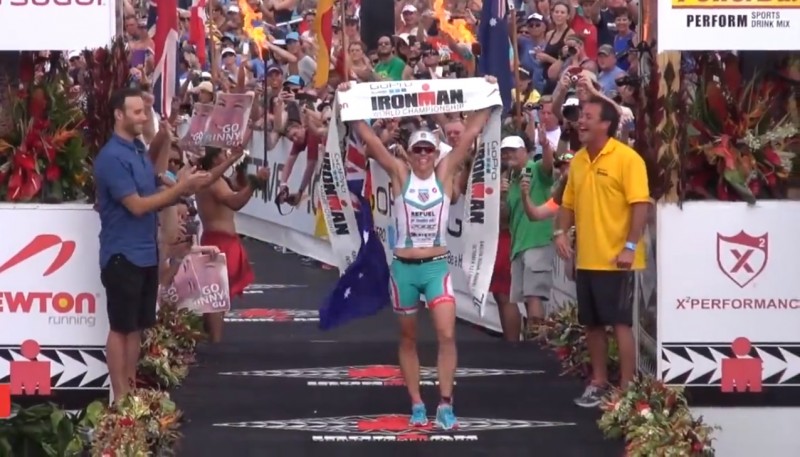 A seemingly mild day in Kona, Hawaii was the setting for personal triumph and world records as the 35th Ironman World Championship crowned two new winners.
In a race all about endurance, Belguim's Frederik Van Lierde dominated the men's division with a time of 8:12:29. After coming in third last year, Van Lierde happily attributed his first world championship victory to consistency. The waters were calm as the pro male swimmers began the race. Though defending champion Pete Jacobs took first place, quickly followed by American Brendan Marsh and Australian Clayton Fettell, Van Lierde patiently took his spot among the leaders with a time of 51:02 and a seventh place finish. Entering the biking event, a dominate lead group prevented an obvious leader until about 75 miles in. Australian Luke McKenzie claimed the lead with the fastest bike split at 4:21:50. Van Liedre moved up the roster with a 4th place finish and a time of 4:25:37.
As the competitors entered the marathon run, the final leg of the race, Luke McKenzie maintained an early lead. But he was unable to hold off Van Liedre, who overtook him just after the Energy Lab. Van Liedre secured the win with a 2:51:18 marathon, beaming as he crossed the finish line, fists pumping.
Even with Van Liedre's stellar performance, the day belonged to the women's leader, Mirinda Carfrae, who not only secured her second championship title, but broke the previous course record by an astounding 1:34.
Carfrae got off to a slow start, falling behind the dominate swimmers group, led by American Haley Chura, by almost five minutes. She finished the 2.4 mile swim in 58:50. This year, for the first time, the women's cycling race proved to be a much more strategic race than previous years. Meredith Kessler and a pack of about six leaders, including American Amanda Stevens, held strong throughout the 112-mile race, with Carfrae a mere eight minutes behind.
The third and final leg of the race is where Carfrae showed what she was truly made of. At mile 15, Carfrae patted leader Rachel Joyce on the back as she overtook her. As the race continued, instead of slowing down, Carfrae seemed to gain momentum, finally crossing the finish line at 8:52:14. Her 2:50:38 marathon finish not only allowed her to clench the title, but also broke her own course record and secured her the third fastest run split in both the men's and women's divisions, and a 30 second faster time than Van Lierde.
"I felt amazing all day today," Carfrae said after the race, according to Ironman.com. "I can't believe it. I didn't know I had a performance like that in me…I'll never forget this day."
Image is a screenshot from video by Ironman Triathlon on YouTube