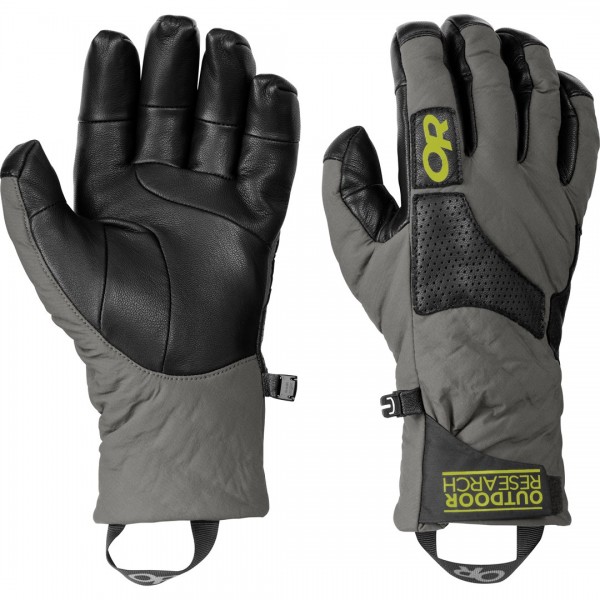 Calling them "amazing in their fit" and "the most versatile gloves we've seen in years," Backpacker Magazine's editorial test team this week bestowed an Editor's Choice on the Outdoor Research Lodestar Gloves.
The award is the second major media award of the fall season for Outdoor Research, which last month won a Gear of the Year Award from Outside Magazine for its Halogen Hoody.
"Can you flick a mini Bic while wearing insulated, leather-palmed gloves? You can if you're wearing this pair," Backpacker's editors wrote. "A precise ergonomic design results in crazy dexterity and off-the-charts comfort, making the Lodestars the most versatile gloves we've seen in years."
Built for active endeavors in cold, dry climates, the Lodestar Gloves pair highly insulating and wicking Polartec Power Shield High Loft fabric on the back of hand with goat leather on the palm and an interior grid microfleece lining.
Beyond superb pairing of materials, testers gave accolades to the fit, and the way the gloves were designed.
"They're frankly kind of amazing in their fit," one editor said. "The slightly elongated, fleece-lined cuff is just the right length to tuck neatly under a jacket's wrist closure. All seams are out of the way, there's no gapping in the well of the palm, and the knuckles are perfectly articulated."
"The Lodestar Gloves dazzled even our most picky testers," Backpacker wrote. " 'These are my new favorite workhorse gloves,' declared one veteran who praised their dexterity, warmth-to-weight ratio, comfort, moisture transfer and drying time."
The Lodestar Gloves cost $89 and are currently available at retailers and at outdoorresearch.com.
Image courtesy Outdoor Research