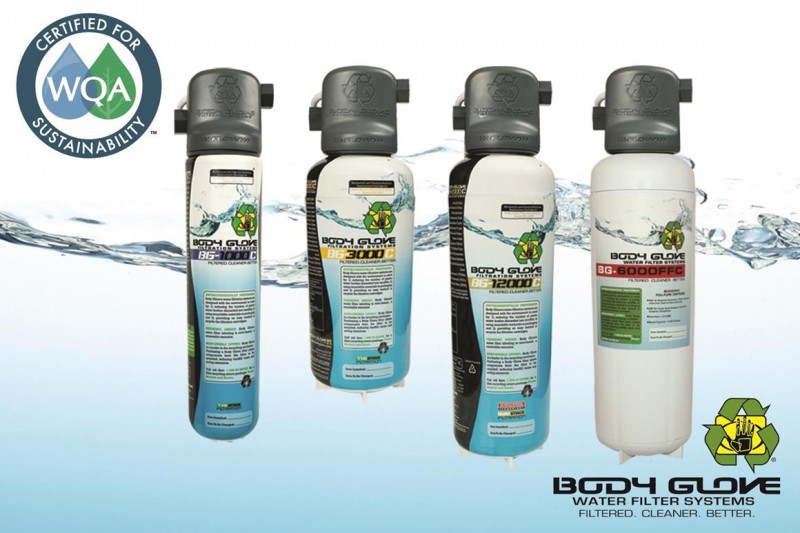 Body Glove International is proud to announce that they are among the first to achieve WQA Sustainability Certification under the new Water Quality Association's Product Sustainability standards for water filter products. All of Body Gove's core-line under sink filter systems and cartridges have been certified: the BG-12000, BG-3000, BG-1000, BG-6000 Full Flow, and the BG-3000R retrofit cartridge.
"I am proud to be able to place this WQA seal of sustainability on our Body Glove Water Filter Systems," said Major Avignon, President of Body Glove Water Filters. "From the inception of these products and our partnership with 3M, our drive was to create an innovative, more responsible product. Achieving certification from the WQA solidifies our place as leaders in the industry with a first-class family of water filters."
Body Glove Water Filter Systems met the WQA's S-803 standards with 70% recycled product boxes, biodegradable shrink- wrapped labeling, and stellar recycle program for used cartridges. Customers frequently rave about the ease of our recycle program. Their positive response is a badge of honor to the "green" path we chose for our systems and cartridges.
HERE: For more info on Body Glove Water Filters
For more information on Body Glove athletes and products go to www.bodyglove.com and for daily updates visit www.facebook.com/bodyglove.
Image courtesy Body Glove