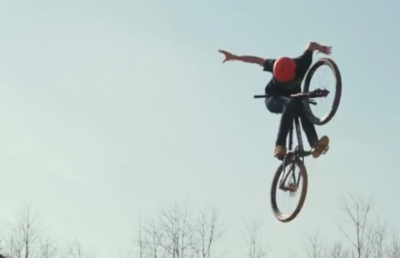 This marks the first year that UK-based mountain biker Matt Jones will be competing professionally in the Freeride Mountain Biking World Tour. A recent short film is showcasing the 19-year-old up-and-coming athlete and gives the audience insight to how he got started in the sport and what goals he has for the future.
The video, "Dirt Life with Matt Jones, Ep. 1" was featured on EpicTV and is edited by Jones, showing he has skills in addition to slopestyle MTB competitions.
The description reads, "Enter the world of one of the best up-and-coming slopestyle mountain bikers in the UK, maybe anywhere. This episode shows Matt's training within the UK prior to his 2013 season and he talks about his goals for the up-and-coming off-season. Not to mention he shows us some of the new tricks he's working on for 2014. A sick edit from a truly talented rider."
Jones said he has been riding mountain bikes for about seven years, and he credits his passion for the sport to living in an area where places to mountain bike were extremely accessible.
"Growing up here made it pretty easy to try out a few sports like skateboarding, BMX racing, and that led to my parents finding a mountain bike spot right on our doorstep," he said in the video. "It was pretty much a no-brainer to keep riding there after school and on weekends when we could."
He said what was holding him back from excelling in the sport was not being able to travel. But now that he is able to drive, he said he's loved being able to explore and ride in different places, as he gets bored easily while riding the same spots.
The video, which is characterized by beautiful environments right off the bat, is complete with not only a number of tricks by the talented Jones, but a fair share of wipeouts as well.
"My main focus this winter is progression really with my riding. I'm really keen just to learn new things and perfect them on a whole variety of jumps," he said. "That's my main aim, is just to progress and get these new tricks that I can take to contest for 2014."
Image is a screenshot from video by EpicTV on YouTube