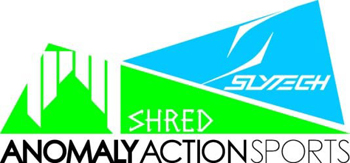 Anomaly Action Sports, home of brands SHRED // SLYTECH, is thrilled to announce its expansion into the bike market with new team Shredder, Ryan Nyquist, and with the debut of its "WE SHRED DIRT." collection of eyewear and protection at Interbike, Las Vegas, Nev., September 18 – 20. Additionally, SHRED // SLYTECH have signed on industry veteran, Victor Sheldon as Bike Manager.
The team is stoked to officially welcome Ryan Nyquist to the SHRED // SLYTECH family.
A true legend and winner of countless medals in Park and Dirt events at X Games, Dew Tour, Vans Triple Crown, and the King of Dirt, Nyquist has shaped the sport of BMX over the past 20 years with consistency and progression. Continuing to push the envelope, his commitment to innovation in the sport is perfectly aligned the SHRED//SLYTECH mission and was an obvious connection for the brands. Nyquist will endorse SHRED eyewear and SLYTECH body protection, collaborating on products, from concept to development.
"I'm pumped about joining the SHRED // SLYTECH family," said Nyquist. "It's a unique opportunity to be able to move BMX forward as well as help the company truly innovate the technology and style of awesome products that allow athletes to push themselves harder."
SHRED // SLYTECH's relentless commitment to perfection has allowed them to spend an incredible amount of time and resources researching the finest materials and technologies to deliver the ultimate product, superior to everything else available. SHRED // SLYTECH's seamlessly edgy design and style, together with SLYTECH 2ND SKIN™ protective foam technology and lenses by Carl Zeiss Vision Sunlens make the company stand above the rest, resulting in a breakthrough collection in the bike industry that is as revolutionary as the company's winter offerings.
Born on a mountain bike ride in the summer of 2006, SHRED //SLYTECH have since conquered the snow sports industry with cutting edge technology and progressive style. After landing snow focused distribution deals in over 30 countries, being stocked in 1,000 stores around the globe and recruiting world renowned skiers and snowboarders such as Ted Ligety, Romain De Marchi, DCP, Alexis Pinturault, Duncan Adams,
Oscar Scherlin and Wolfgang Nyvelt, the company is now ready to unveil its full line of product dedicated to the world on two wheels.
"Just like any other athlete on our snow team, there's nothing I love to do more during the summer than mountain bike in my hometown, Park City, UT" said Ted Ligety, Co-Founder, Olympic Ski Gold Medalist and 4x World Ski Champion, "I do it every day, and I can't get enough of it. I am stoked to launch our first line of bike products and I am super excited and proud to wear our gear all year round."
"We weren't happy with what was out there for us and our athletes to shred around on two wheels during our summers," said Carlo Salmini, Co-founder of SHRED // SLYTECH. "As outrageous as it may sound, we just feel more comfortable building the product of our dreams rather than using equipment that falls short of our expectations."
In line with the company's growth and direction, SHRED // SLYTECH is pleased to announce that Victor Sheldon has joined the team as Bike Manager. Formerly, the Marketing Manager at Spy Optic, Sheldon will bring his twenty years of experience and participation in action sports to play a critical role in driving marketing initiatives and innovation for SHRED // SLYTECH in the bike segment. Victor will also work closely with the brands' Sales, Team Management, and Creative groups on a global level.
"I'm psyched about joining the Anomaly Action Sports family," said Sheldon. "The team's passion for innovation is exciting. I know that together we'll be reshaping the style and technological bounds of the bike world."
"We couldn't have found a better person to fill the role as Bike Manager," said Federico Merle, CMO and CFO of SHRED // SLYTECH. "Victor's experience, name and résumé speak for themselves. His passion for the sport will be a driving force for our growth in the bike segment. He is definitely from the core."
Highlights of the SHRED // SLYTECH "WE SHRED DIRT." bike line are the SHRED Short Stack helmet featuring SLYTECH 2ND SKIN™ Shock Absorbing material, the BAFFLE and PROVOCATOR sunglasses featuring Carl Zeiss Vision Sunlens technology, and the whole line of unique SLYTECH 2ND SKIN™ XT body protection that is able to push the boundaries of both comfort and safety without compromising either dynamic qualities.
Logo courtesy Anomaly Action Sports