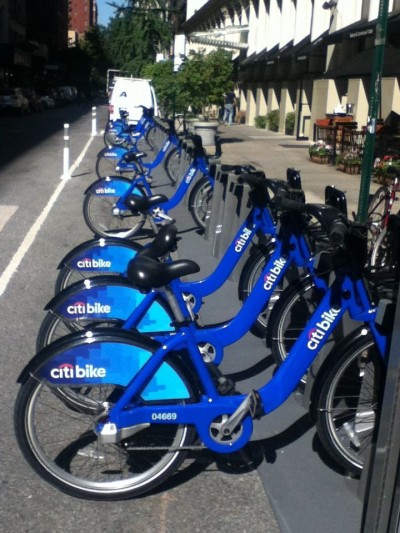 It seems not everyone is pleased with the popularity of New York City's Citi Bike program. Although thousands of people have used the bikes since Citi Bike's inception in May of this year, the look of the bike racks seems to be causing one local business a lot of frustration.
According to a story published by the New York Post, the Plaza hotel has filed a lawsuit against the Department of Transportation, Citi Bike, and Citibank because of the block-long bike rack that is outside its building. It called the blue bikes an "eyesore" and said it was the source of clogged traffic as well as was covered in advertising. The rack is located along Grand Army Plaza across from the Plaza.
"The bicycle rack is not only an eyesore, stuck squarely in between two of the city's most famous designated landmarks, but it came at the expense of a full lane of traffic," the suit claims, according to the New York Post.
There are a total of 330 bike stations placed around the city. The Plaza stated that it used to have four lanes of drop-off areas in front of the building, but now only three are available because of the bike rack, causing pile-ups of traffic, as well as increased litter.
Plaza hotel lawyer Steven Sladkus said the city is violating its own laws because a required environmental-impact review has not been conducted, and it has ads on a piece of street furniture as well.
"To place racks in between two of New York City's iconic landmarks seems rather unnecessary when there are very viable other alternatives," said Sladkus in the article.
According to the story, Citibank declined comment and Citi Bike did not respond to a request for comment. A spokeswoman for the city Law Department said, "We are confident that the installation was proper."
Image from Pharos on the Wikimedia Commons