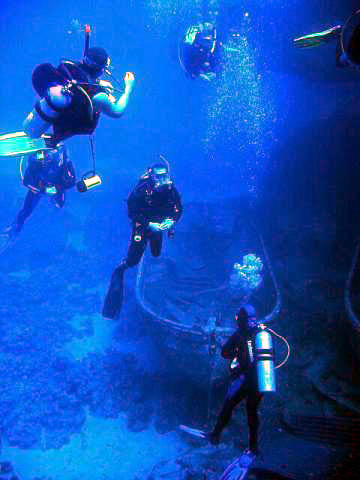 A local Handicapped Scuba Association is celebrating the graduation of its first class that is now certified to act as dive masters and buddies who will assist those with disabilities in learning to scuba dive.
According to an article published by the Welland Tribune, the 10 divers from Ontario will work with people who are quadriplegic or visually impaired, among those with other disabilities. After the training period that was held at Adventure Scuba and Watersports, the students are able to explore the underwater environment.
The international program is offered year round, but specific training dates and times depend on where you live. When colder weather sets in, there is training available at indoor pools. Founded in 1981 by Jim Gatacre, the HSA is a non-profit that "is the world's leading authority on recreational diving for people with disabilities," according to the website.  
Four of the 10 recent graduates helped Ontario resident Mitch Brogan in his diving qualifications, and he is now certified as an HSA advanced open water diver.
"It was a thrill to see Mitch complete his qualifications," Niagara-on-the-Lake resident Felicia Kostecky, who led the class, told the Welland Tribune. "It was equally thrilling to see so many of the recent HSA graduates want to support him through the process. These students will form the base for sharing the joys of scuba with more people who otherwise would not have access to the wonders of the underwater diving experience. It is an exhilarating experience for both the diver and their buddy."
The HSA training team included Marilyn Rundle of Ridgeway, Nestor Kopko of Oakville, Susan Holmes of Waterdown, David Hurst of Ridgeway, Gordon Ross of Brantford, Anna Jackson of Schomberg, Jaia Konik of St. Catharines, Adam Kotiw of Mississauga, Nicole AuCoin of Guelph and Kostecky.
For Brogan, diving was nothing new, but rather something he had to re-learn.
After he was hit by a drunk driver while bicycling, he was left with a C4/5 spinal cord injury—something he thought would prohibit him from ever diving again.
"I used to dive before my accident, but once I became a quadriplegic I didn't think I could ever get back in the water and dive," he said in the article.
Rather than facing challenges in the water, Brogan said the hardest part is getting his wetsuit on.
"That's definitely the most difficult part," he told the Welland Tribune. "After it's on and the equipment is on, I'm able to do everything anyone else could do underwater—it's great because everyone can explore underwater."
Kostecky called scuba diving "a great equalizer so disabilities have little impact."
Both Kostecky and Brogan said scuba diving is an activity that puts able-bodied people and those with disabilities on a more even ground.
"It's funny because having perfect buoyancy is crucial to scuba. I hear a lot of able-bodied people say that they don't have as good of buoyancy. My buoyancy is much more trim compared to able-bodied divers," Brogan said in the article, mentioning this new skill is going to help him achieve one of his life goals. "My goal is to dive the Empress of Ireland. It's a really special spot within my family. My grandfather dove there, so I'd like to carry on that tradition."
As for getting other people with disabilities involved in scuba diving, Brogan said despite the challenges, people need to give it a chance because of the opportunities that are available once in the water.
"If you want to see a different world, then dive. It's unlike anything land-lovers could experience and you're able to go beyond your limitations that you have on land," he said.
The local program began rather quickly when Kostecky started the training back in August. HSA International founder Gatacre traveled from California, where the organization is headquartered, to Ontario to help with the set-up of the program.
"The demand for scuba for the disabled is strong; it brings a new world of freedom, exploration and activities that they can really enjoy," Gatacre said in the article. "There has been considerable excitement in the region from both the U.S. and Canadian sides of the border."
The HSA program in Ontario is the first of its kind in Canada.
"We're really proud of our local area to be able to certify and train disabled people in scuba. It's so amazing to see their dreams come true and to see their faces underwater," Kostecky said.
For more information about the Handicapped Scuba Association, call (905) 938-3483 or email [email protected]
Check out the video below that is posted on the HSA website, showcasing how one woman took to the water in her wheelchair.
Image from Civertan on the Wikimedia Commons