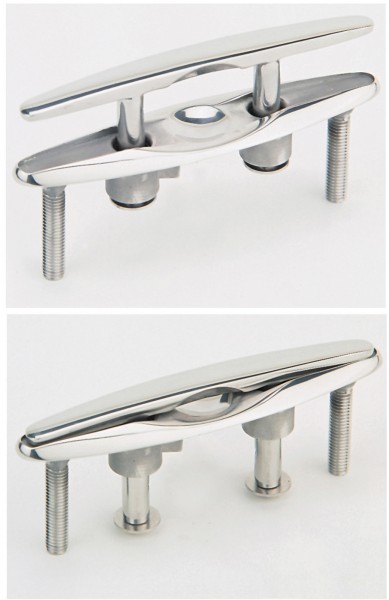 Helping prevent snagged lines and tripping hazards, Accon Marine's 304 Slim-Line Cleats are designed so users can tie off without any tangled lines. Additionally, their low-profile prevents the dangers of stumbling on the deck, while their sleek, narrow design, allows them to be installed where other flush-mounted cleats won't fit.
Made of marine grade 316 stainless steel, the cleats are offered in 4.5″, 6″, 8″ and 10″ sizes. Easy to pull up, the recess in the base allows the cleat to be grasped quickly and easily.
Each cleat comes with a backing plate which serves as the cut-out template. Users need to only drill four holes and saw-cut clearance between the two center holes.
Accon Marine's Slim-Line Cleats have a starting price of $71.33.
Accon Marine specializes in flush mounted, stainless steel hardware, enhancing a boater's experience. Inventor of the original Pop-Up cleat, the company strives for high-quality in its products.
Image courtesy Accon Marine