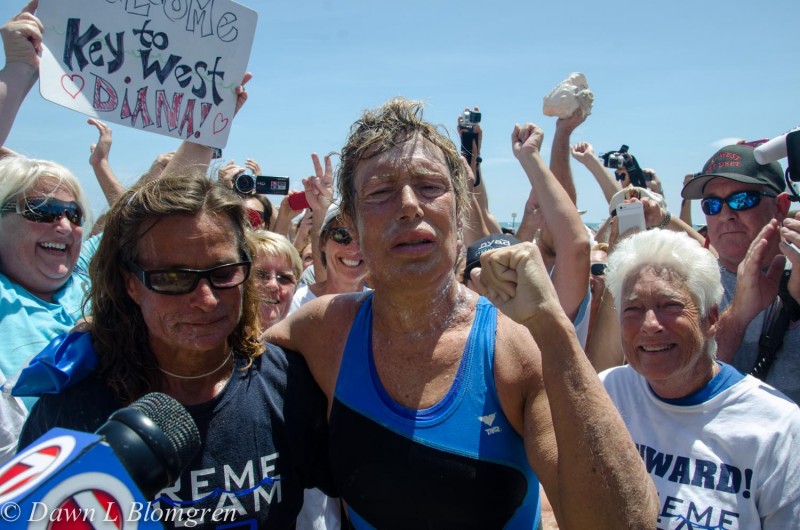 Diana Nyad, the woman who set a world record last month as the first person to swim from Cuba to Florida without a protective cage, was back at it this week with a 48-hour swim that raised money for charity. Rather than taking to the open water, her long swim took place in a 120-foot, two-lane pool that was set up in Manhattan's Herald Square.
According to a story by NBC New York, the swim benefited victims of Hurricane Sandy. Donning a pink swim cap, Nyad began her swim a little before 9 a.m. on Tuesday and completed it at 8:48 a.m. Thursday morning.
Her hours of swimming raised more than $103,000 for the AmeriCares Sandy Relief Fund, which is part of the AmeriCares non-profit health and disaster organization. Nyad's swim helped to kick off 21 days of fundraising for the relief fund. NBC reported that Nyad said the swim was tougher than she had imagined.
On Monday's Today show, Nyad said she was doing the swim to help support the victims of the devastating storm and to let them know they have not been forgotten.
"I don't want to forget them," she said. "I don't want to forget any people who have been through disaster."
Nyad was not the only swimmer who was helping to raise funds at the event this week. She was joined in the pool by Olympic gold medalist Ryan Lochte. Other pool companions were fitness instructor Richard Simmons and Today show anchor Natalie Morales.
The swimmer hugged those who were in the pool with her on several occasions—an act that would have disqualified her from any other official swimming event.
"I'm going to feel the solidarity," she said, according to NBC. "And every penny is going to go right to the victims."
Before successfully setting the record this year, Nyad had previously attempted the Havana, Cuba to Key West, Florida swim four other times over a 35-year span. The 64-year-old endurance swimmer, author, and motivational speaker took 53 hours to reach her destination.
After the news of her record, criticisms arose that suggested she had gotten into or held onto a boat during the swim. She responded to the negative comments by saying, "there will always be naysayers." Nyad said she did not wear flippers, use a cage, get out of the water, or receive assistance from another person.
With the Cuba to Florida swim record set and the Manhattan fundraiser complete, Nyad said she plans to continue to do charity events using a portable pool, mentioning she would like to assist victims of tornadoes, tsunamis, terrorist attacks, and other disasters. NBC reported that Nyad, while smiling, said she may even attempt another solo event.
Check out the video of the end of Nyad's 48-hour swim below.
Image courtesy of Dawn L Blomgrin/diananyad.com.