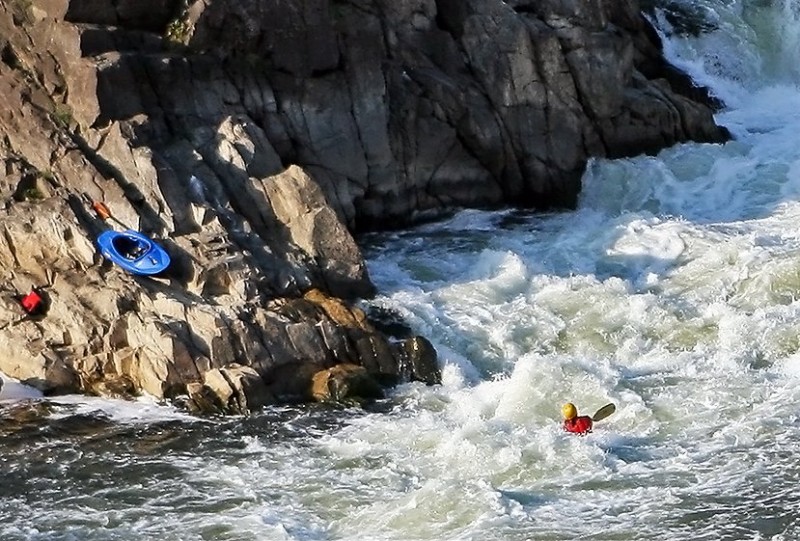 While there is no official governing body that determines who the best extreme kayaker in the world is, adidas has taken the matter into its hands and created the adidas Sickline Extreme Kayaking World Championship. This annual event has been held for the past six years and continues to bring in the best in the sport.
According to results posted on the Sickline website, 24-year-old Jo Morley from Great Britain and 22-year-old Nouria Newman from France were winners in this year's competition that was held in Austria's Ötztal Valley. Taking place from October 3 to 5, the Ötztaler Ache River was the location for the athletes to show off their skills. There were 150 people who competed and are known as the best whitewater, slalom, and freestyle paddlers. Kayakers from 24 different countries registered to take on the Wellerbrücke rapids, which are regarded as some of the most difficult whitewater sections in the world.
"I took a bit of time out of slalom this year to concentrate on white water paddling and it's paid off," slalom specialist Morley told The Telegraph. "I had to tell myself that it was possible. I just put a good run down and it's all come through."
As for Newman, she said extreme kayaking is always unpredictable.
"I got a little bit of water in the front of my boat and then was pushed a little further left than I wanted to, hitting the wall a bit in the final crux, which was not a pleasant feeling, but I knew I had done a pretty good top section so I was sprinting to the finish," Newman, who was named Sickline Queen, told Sportscene Paddle Sports. "Sometimes the river is stronger than you or you can't read it properly and it doesn't work for you, but sometimes you make it and it's all good, like today. It was really good fun."
Check out a video of the competition's highlights below.
As for the name of the competition: "A 'sick line' is the perfect, smoothest and fastest line downriver. In search for sick lines, extreme kayakers travel around the world. Extreme kayaking is the art of going down steep rivers, high waterfalls, and mastering extreme whitewater difficulties. Paddlers call that steep creeking. On their expeditions around the globe, extreme kayakers are often far from any civilization and self-sustaining for days. Their kayak is turned into a backpack in which they stow their food and gear for the wilderness. Often they walk a marathon just to get to the rivers they want to paddle."
Image from Steve on the Wikimedia Commons