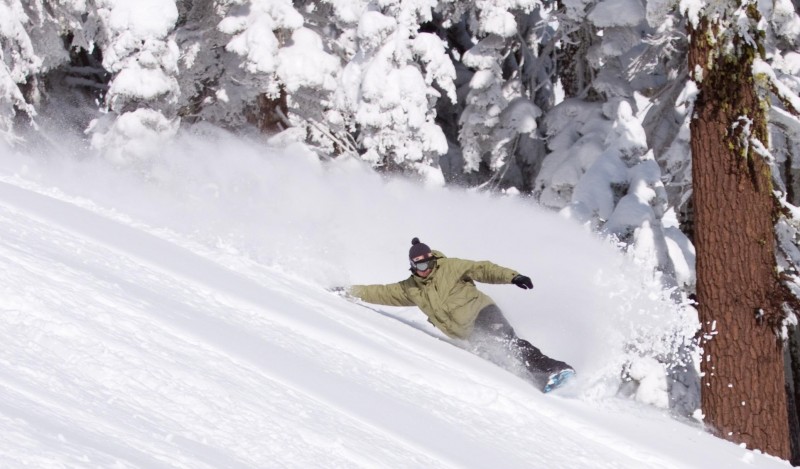 Despite the recent partial government shutdown, an organization called Protect Our Winters traveled to Washington, D.C. last week to support the Clean Air Act. The group, comprised of representatives of the ski and snowboard industry, was started in 2007 by professional snowboarder Jeremy Jones after he began to see the impact of climate change on the mountains he loved.
Simply put, the message they wanted to get across in D.C. is this: "We represent an important part of the U.S. economy and we support President Obama's plan to use the Clean Air Act as a vehicle for curbing carbon emissions from power plants."
"Snow-based recreation in the United States is estimated to contribute $67 billion annually to the U.S. economy and supports over 600,000 jobs. So when we look at the cost of inaction, it's serious business," the Protect Our Winters website states. "We represent the global snow sports community—there are 23 million of us in the U.S. alone. Clearly, it's time for us all to step up and take responsibility to save a season that fuels our passions but is also the foundation for our livelihoods, our jobs and the economic vitality of our mountain regions."
Chris Steinkamp, executive director of Protect Our Winters, said he was worried that the shutdown would impact their trip, but was pleasantly surprised.
According to an article published by Outside, last week was not the first time Steinkamp and Auden Schendler, vice president of sustainability at Aspen Skiing Company, visited Washington, D.C. to lobby. In years past people like Gretchen Bleiler and Jones have tagged along with them to help address climate change. Unlike before when only several well-known skiers and snowboarders attended, almost 20 made the trip this year.
"We had two-time gold medalist snowboarder Seth Wescott, we had Chris Davenport, we had Forest Shearer, we had Danny Davis, we had legendary mountaineer Conrad Anker. And then, aside from all these athletes, we had executives from Black Diamond, from Patagonia, K2. Donna Carpenter, who founded Burton, the largest snowboard company in the world. It was a remarkable group," Schendler said in the article. David Ingemie, president of Snowsports Industries America, was also in attendance.
Although the trip was considered a success by its organizers, representatives from both the Environmental Protection Agency and the White House Council on Environmental Quality were not able to meet with the group. But the group was not disappointed.
"I looked around the table, I saw these legendary athletes, and I realized what our mission is, which is that we're going to use the power of this group to create the policies we need to fix climate," Schendler said in the article. "It was a real epiphany."
Protect Our Winters had a fully-packed schedule of meetings during the D.C. trip. They met with Mike Bennet from Colorado and Democratic Senators John Tester and Max Baucus from Montana, to name a few. They also met with Alaska Senator Lisa Murkowski, who "disagreed with the group's support of increasing government regulation over energy companies," Steinkamp told Outside.
According to the United Nations' Intergovernmental Panel on Climate Change report that was released last week, there is a 95 percent chance that people are the cause of climate change, and because of this, the climate will continue to warm for centuries.
In an interview with X Games, Steinkamp said, "I absolutely think we can win this fight. I wouldn't be doing this if I didn't believe we could be successful and I wouldn't be asking for hard-earned contributions from our supporters either. It's a full-on street fight and we're losing right now, but if we work together to really engage the snow sports community and influence environmental policy to put a cap on carbon, we're taking huge steps forward and I absolutely believe that's within our reach."
Image from Ripley119 on the Wikimedia Commons