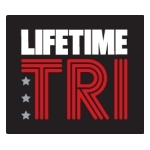 Nearly 1,000 athletes participate in Dallas' largest triathlon of the year
Life Time Tri Dallas, produced and presented by Life Time – The Healthy Way of Life Company (NYSE:LTM), crowned Cameron Dye and Alicia Kaye as winners on October 6, 2013 in Rockwall, Texas.
Established in 2007, Life Time Tri Dallas is the largest triathlon in the Dallas Fort Worth area and marks the ninth event in the 2013 Life Time Tri Series. This year's race brought nearly 1,000 professional, elite, amateur and first time triathletes to Lake Ray Hubbard to compete in individual and relay sprint and international distances. Hundreds of spectators lined the course to cheer on the athletes while waving signs and ringing noise makers.
"We are so grateful for all who came out in support of Life Time Tri Dallas," said Sarah Lowenstein, Regional Marketing Manager for Life Time Athletic Events. "We are inspired by the athletes who competed today and thankful to the City of Rockwall for hosting this fantastic athletic event."
Some of the world's best triathletes competed in Sunday's race in hopes of taking home a portion of the $30,000 cash purse. Alicia Kaye (USA) scraped past Denmark's Helle Frederiksen to win the female professional division with a time of 2:00:22:47. This is Kaye's fifth 1st place finish in the series and currently ranks first. Cameron Dye (USA) won the male professional division beating out Olympians Stuart Hayes (GBR) and Hunter Kemper (USA) with a time of 1:50:17:29. Dye ranked 3rd in the series going into today.
Life Time Tri Dallas is the final Texas stop in Life Time's seven-event Pro Series which concludes with the Life Time Tri Series Championship,Life Time Tri Oceanside on October 20 in Oceanside Harbor, California.
Complete results for Life Time Tri Dallas are listed at www.pttiming.com. Photos from the race will be available on the Life Time Tri Dallas Facebook page. The 2013 Life Time Tri Pro Series results and current point standings will be available at lifetimetri.com, the official website of Life Time Tri. Updates also will be provided on Twitter by following @LifeTimeTri and by liking the Life Time Tri Facebook page.
Logo courtesy Life Time Fitness, Inc.