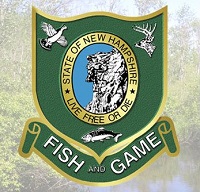 Persons with snowmobiles registered in New Hampshire, Maine or Vermont may be interested in a public hearing coming up regarding the 2014 Snowmobile Reciprocity Weekend Rules. The hearing is set for Monday, October 21, 2013, at 6:00 p.m. at the New Hampshire Fish and Game Department, 11 Hazen Drive, Concord, NH 03301.
The N.H. Fish and Game Department is proposing to amend the laws relative to the snowmobile weekend that allows reciprocity for Vermont and Maine registrations, to use specific calendar dates of January 31 through February 2, 2014, instead of using the description of "the fourth full weekend in January."
"We're making this date change in the reciprocal weekend in an effort to select the most convenient weekend for all three states," said Capt. John Wimsatt. "Other than that, these are minor changes to refine the rules for an annual event that has become quite popular since it began a few years ago."
A rule is also being amended to clarify that a legally registered Vermont snowmobile is a snowmobile which displays a valid Vermont Association of Snow Travelers, Inc., Trails Maintenance Assessment, also known as the Trails Pass.
The complete rulemaking notices, with original and proposed rule language, can be viewed at http://www.wildnh.com/Legislative/Notices_summary.htm.
Written comments must be received by October 28, 2013. Send to: [email protected] (use subject line "Comments on Snowmobile Weekend Rules"); or write to Executive Director, N.H. Fish and Game Department, 11 Hazen Drive, Concord, NH 03301; or fax to 603-271-1438.
Logo courtesy New Hampshire Fish and Game Department