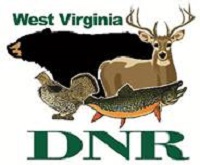 All of the parks, forests, campgrounds, trails, lodges, cabins, golf courses and other recreational facilities operated by the Parks and Recreation Section of the West Virginia Division of Natural Resources will continue operations as normal.
"We encourage residents and visitors to continue to take advantage of our parks and recreational opportunities and to make plans through the fall and winter months," said State Parks Chief Ken Caplinger.
To receive a brochure listing all state parks and forests and general information, call 800-CALL-WVA and ask for the state parks brochure, or visit the website www.wvstateparks.com. The "Find a Park" button shows a list of all state parks and state forest areas as well as a "Find a Park by Map" search.
Logo courtesy West Virginia Department of Natural Resources