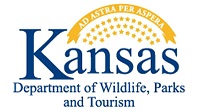 The Kansas Department of Kansas Wildlife, Parks and Tourism (KDWPT) is a state agency and all offices, wildlife areas, education centers and state parks operated by the agency remain open. However, the U.S. Fish and Wildlife Service (USFWS) has announced that the government shutdown will impact access for hunting and fishing on all national wildlife refuges (NWR). The USFWS operates four national wildlife refuges in Kansas: Kirwin NWR in Phillips County, Quivira NWR in Stafford County, Flint Hills NWR in Coffey County, and Marais des Cygnes NWR in Linn County.
According to the email from Matt Hogan, Deputy Regional Director for the USFWS's Mountain-Prairie Region, operations on the NWRs will cease under the shutdown, including hunting and fishing on these areas. The NWRs in Kansas primarily offer waterfowl hunting opportunities, and all are within the Late or Southeast Duck zones. Duck season opens Oct. 26 in the Late Zone and Nov. 2 in the Southeast Zone. Goose seasons open Oct. 26, statewide.
KDWPT-managed wildlife areas are not affected by the shutdown and will remain open. Waterfowl areas managed by KDWPT in the Early Duck Zone include Cheyenne Bottoms, Jamestown, McPherson and Texas Lake. The regular duck season in the Early Duck Zone is Oct. 5–Dec. 1, 2013 and Dec. 21, 2013-Jan. 5, 2014.
Also, according to a news release from the U.S. Army Corps of Engineers' (USACE) Kansas City District office, USACE-operated parks and day-use areas on state reservoirs will be closed during the shutdown. The USACE operates parks at Big Hill, Clinton, Council Grove, John Redmond, Kanopolis, Marion, Melvern, Milford, Perry, Pomona, Tuttle Creek, and Wilson reservoirs. KDWPT state parks remain open on the above listed lakes except Big Hill, Council Grove and Marion. All 26 Kansas state parks remain open for camping, day-use and lake access.
KDWPT offices will be open during regular hours, and access to all wildlife areas and state parks operated by the department remains unchanged. For more information on Kansas state parks, public hunting areas and hunting regulations, go to www.ksoutdoors.com.
Logo courtesy Kansas Department of Wildlife, Parks and Tourism