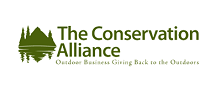 On Friday, October 4, the Conservation Alliance along with Colorado-based member companies and grantees will work together to help clean up and improve Boulder parks in the aftermath of the historic September flooding that forced the closure of 119 miles of trail system.
The Boulder Backyard Collective will bring together employees from Conservation Alliance member companies Osprey, Nite Ize, Backpacker's Pantry, Outdoor Industry Association, La Sportiva, Verde PR and Sea To Summit as well as the organization's grantees, including the Access Fund, Conservation Colorado and IMBA.
Organized in partnership with Boulder County Parks & Open Space and Colorado Mountain Club, the Boulder Backyard Collective will take place at Walden Ponds Wildlife Refuge. Volunteers will work on a variety of tasks with the goal of ensuring smooth flow through creeks, streams, and ditches.
"In the wake of historic floods, we are pleased that our Backyard Collective event can bring our members together for a day of stewardship that will help restore some of the damage caused by the rains," said John Sterling, Executive Director of The Conservation Alliance. "These events are all about coming together around a common value."
This event in Boulder marks the final Backyard Collective of the 2013 season. Concluding its fifth year, the Backyard Collective events provide opportunities for employees at Conservation Alliance member companies to volunteer and get involved in hands-on conservation efforts while connecting with grant recipients and non-profit organizations focused on environmental issues.
The Boulder Backyard Collective will begin at 8:30 a.m, on October 4, 2013. Following completion of cleanup and restoration activities, volunteers will be served a catered lunch from Dish Gourmet and participate a volunteer fair at which Conservation Alliance grantees and local environmental organizations will share information on their current conservation initiatives.
Logo courtesy The Conservation Alliance