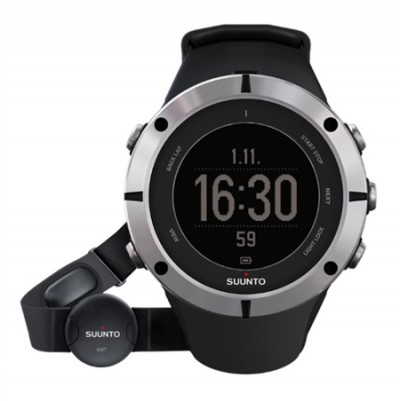 The Suunto Ambit 2 Sapphire and Suunto Ambit 2S and Suunto Ambit 2 are all in stock and offer upgraded memory and over 1,000 apps.
There are several major differences in the new Suunto Ambit 2 models compared with the original Suunto Ambit. First there is a new Fused altimeter that incorporates both barometric and GPS data for faster response, swim functionality with laps strokes and distance have been added to the watches along with power output capabilities on the bike.
THE NEW LONG COURSE TRIATHLON WATCH
Without question Suunto is looking to give Garmin a run for its money in the triathlon watch category by delivering all the metric data of a Garmin 910XT in a much more attractive form factor.
There are three different price levels and watch varieties with the new Suunto Ambit 2 as follows:
SUUNTO AMBIT 2 SAPPHIRE
Suunto Ambit Sapphire offers a real sapphire crystal and a silver burnished bezel. The Sapphire and the new 2S have greatly expanded memory over the original Suunto Ambit so they can handle much more in the way of firmware updates. It also has the toughest crystal Suunto has ever used on Ambit and a barometric altimeter.
SUUNTO AMBIT 2
This watch is very similar in design and look to the original Ambit which came in black and silver, as does this model. It also has a barometric altimeter.
SUUNTO AMBIT 2S
The Suunto Ambit 2S has a shallow water GPS, can do laps and strokes plus can pick up power meter output from ANT+ compatible power meters. This watch has the thinnest profile of any Ambit ever and will be a very competitive triathlon watch with features that compete very favorably with the Garmin 910XT.
If you would like to talk Suunto Ambit 2 models with a real expert then just call us here at the Heart Rate Watch Company at 866-586-7129 and see what a difference it makes to talk with someone that actually uses the products they sell.
Image and video courtesy Suunto